California Dreaming: West Coast on the East Coast
What does the performance boat world have in common with Rap music? Besides drugs and money, there is a rivalry of sorts but it's not really a rivalry it's just a strong distinction between how boats are made and designed in each region. A few characteristics stick out. West coast boats do all of their graphics in the gel, whereas on the east coast, it is more common to paint on graphics. West coast builders are known for amazing gel work with incredible colors and blends. There are more small lake orientated boats produced in the west, although we are seeing bigger boats now from prominent west coast builders. On the east, it is usual to see a narrow beam, super deep V-hull, with 24 degrees of deadrise. No doubt inspired by the more common offshore conditions on the east. In the west, it's more common to see lake hot rods with shallow Vs, mod vp designs and small tunnels. Again, this is not a rule, just in general. Plus, you see more bowriders and performance "deckboats" in the west. This article is to highlight some really cool boats built in the west that east coast guys could appreciate. Most of them are very uncommon to see on the east, particularly south Florida, yet could make great wave jumpers in the bay and sandbar cruisers.
Howard Custom Boats - Website
Howard has been around for a long time, since 1959, and been known to make some exceptional boats with outstanding build quality.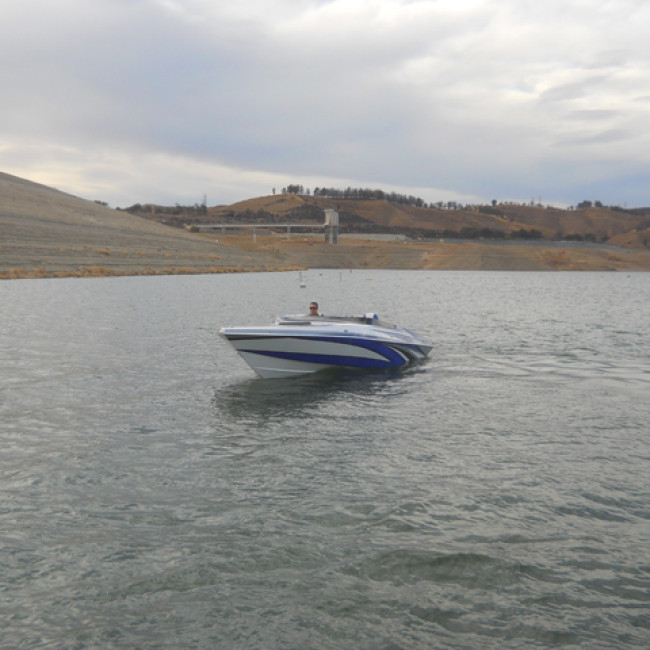 The 25 and 28 Bullet are among the fastest single engine V-hulls around. Designed by Michael Willen, built custom to order.
Back in the day, Powerboat and Hot Boat would grant awards to Howard Boats regularly, particularly their 25 and 28 foot Bullet series of boats. The 28 Bullet is one of the faster 28s on the market as well as one of sleekest boats you'll see. Hot Boat tested a 28 with a custom 1100 HP engine that went 122 MPH, making it the fastest single engine 28 they tested. The same boat was later rigged with a Teague 1200 HP engine and recorded 130 MPH (allegedly). Howard also made a 23 that they no longer make based on the 23 Crusader / Warlock hull, called the 23 Offshore. That boat was modified to have a pad bottom and featured a 24 degree deadrise and very narrow 6'6 beam, making it a tremendous rough water boat. They also made a 22 hull called the 22 Offshore until recently. With a deep V, roomy beam and a really deep hull it was popular for many years as an all around boat that could handle big power.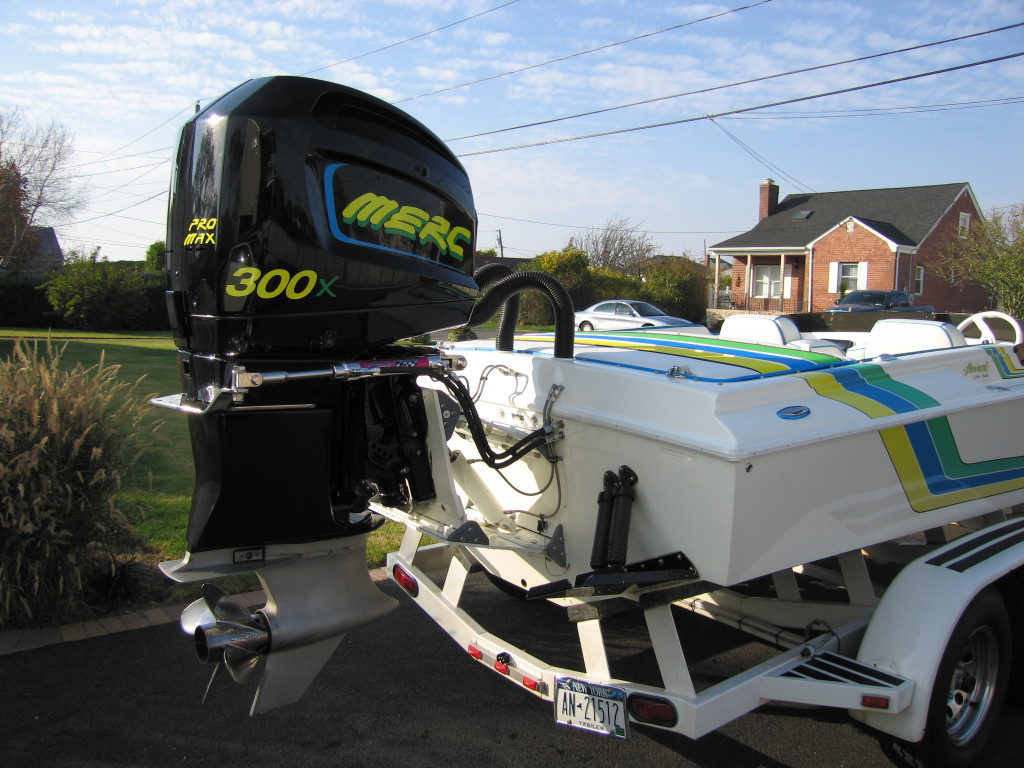 Very rare Howard 23 Offshore outboard. Narrow 6'6 beam, deep 24 degree V.
The 25 Bullet is the smallest boat in the lineup and like the 28, it is a class leader in that size. With a stock 525, both eclipse the 80 MPH mark and with 22.5 deadrise and sharp bow entry can handle all kinds of water conditions. The boats have 26 Lb. high density PVC foam core stringers and transoms, with bulkheads that are vacuum bagged balsa lite deco panels. Howard makes a 36 Bullet as well, which is a qualified APBA race boat, and some cats but stick to the smaller Bullets and have one of the nicest 25 or 28 foot boats on the market and one of the few if you live in the east.
Hallett Boats - Website
California builder and legendary boat maker Hallett Boats makes some classic looking hulls from 21 to 40 feet. My favorite is the 21 foot Hallett 210. Absolutely one of the nicest looking boats you can buy. With a classic squared off windshield and super low profile, the 210 reminds of the early 70s mini offshore boats but with a modern flare. It actually looks very similar to an original 20 Cigarette, just look at them side by side (see below). It doesn't have a super deep V at 18 degree deadrise but it is heavy and the hull can handle big power. The closed bow version is the way to go, you can find them used for decent value and you will have a classic boat that would be very unique in the east. The hull was actually popular in the ski race circuit and so you know it has been tested. Not the fastest but one of the coolest for sure. Fit and finish is excellent and the custom gelcoat work is second to none.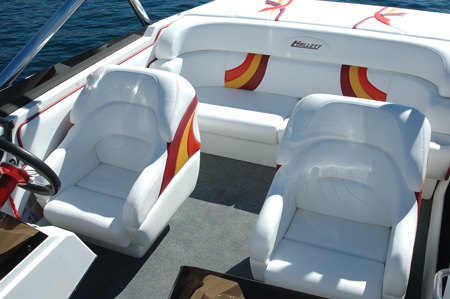 Incredible finish and interior. Get the closed bow not the bowrider with the tower like this guy.
Nordic Boats USA - Website
Nordic Boats have been making stellar boats since 1962. Based in Arizona, Nordic has built hulls from 18 to 47, including a range of catamarans. Impeccable quality, attention to detail and boats that really rip. Most of their V-hulls have a 22 degree hull with a pad bottom and rough water in mind. I've driven a 25 and it is superb as well as among the faster 25 V-hulls around. Nordic has not forgotten their roots either. They make an ultra cool 21 Crossfire based on their incredible Cyclone ski race hull, which is a top performing ski race hull designed for huge power and offshore use. This is a very unique boat available as an outboard only. It is not a lightweight that will get tossed around though, you could run this in the bay or to the sandbar on any given day.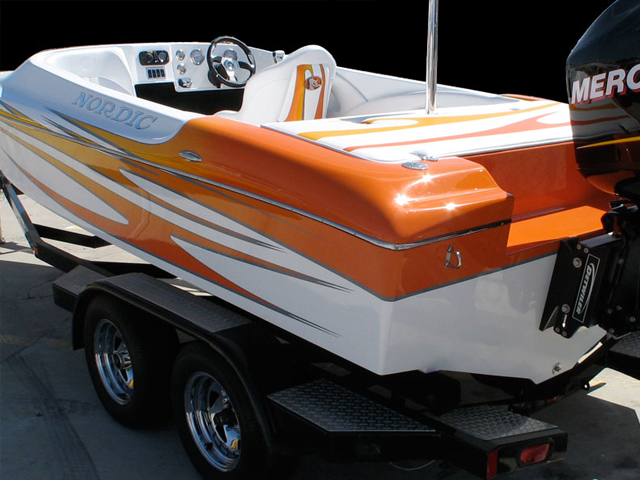 Based on their ski race hull, the 21 Crossfire is a serious small boat, built to handle anything.
Nordic also makes a fairly nice cat called the 24 SXOB, can be had as an i/o as well. I'm not a huge cat fan but for a single engine boat that can hold a lot of people, it would be cool. The 22 Evolution is sleek and fast but only comes in a bowrider, I hate bowriders. The 21 Crossfire, 25 Rage closed deck and 24 SXOB are my favorites. Nordic is a custom builder so the option list is extensive including optional layups as well.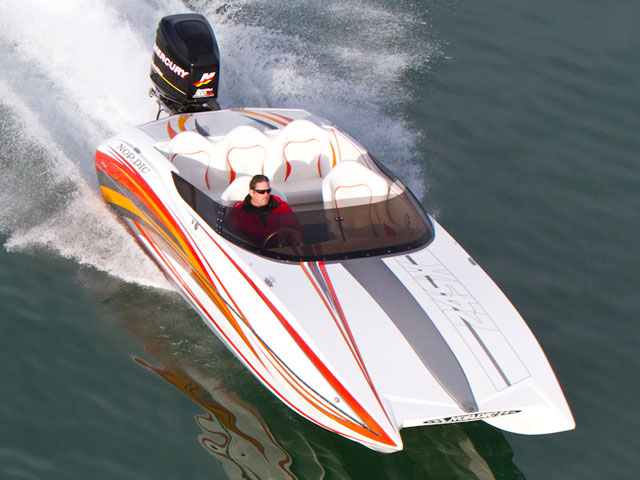 One of the coolest single engine cats around, the 24 SXOB. Maybe not offshore but you'd be looking pretty cool at the sandbar.
Lavey Craft Motorsports - Website
The legendary California builder has made innovative boats since 1952. My favorites are the 21 XCS and the 24 NuEra. The 24 is a good choice if you want something that punches above its weight. With a 22 degree deadrise and a sharp entry, this 24 rides much bigger than it is. With a high freeboard you'll feel pretty confident in any water and although it's a little heavy, it goes really well with stock power. Lavey has some radical hull designs, the 24 features a narrow beam, pad bottom, two steps and inner and outer strakes. I don't love small stepped hulls but reports are that the Lavey's perform really well.
The smallest Lavey Craft is the 21 XCS is the closed bow version of the hull, available in a walk through and an outboard. The closed deck is the way to go, I hate bowriders. I'd go with the outboard version too, I just love outboards but the i/o version looks incredible. This hull also has twin steps, which is strange on such a small boat but I haven't heard any negative feedback on it. Build quality is very good. Used ones can be had for good value and they will last. Very rare to see one in the east.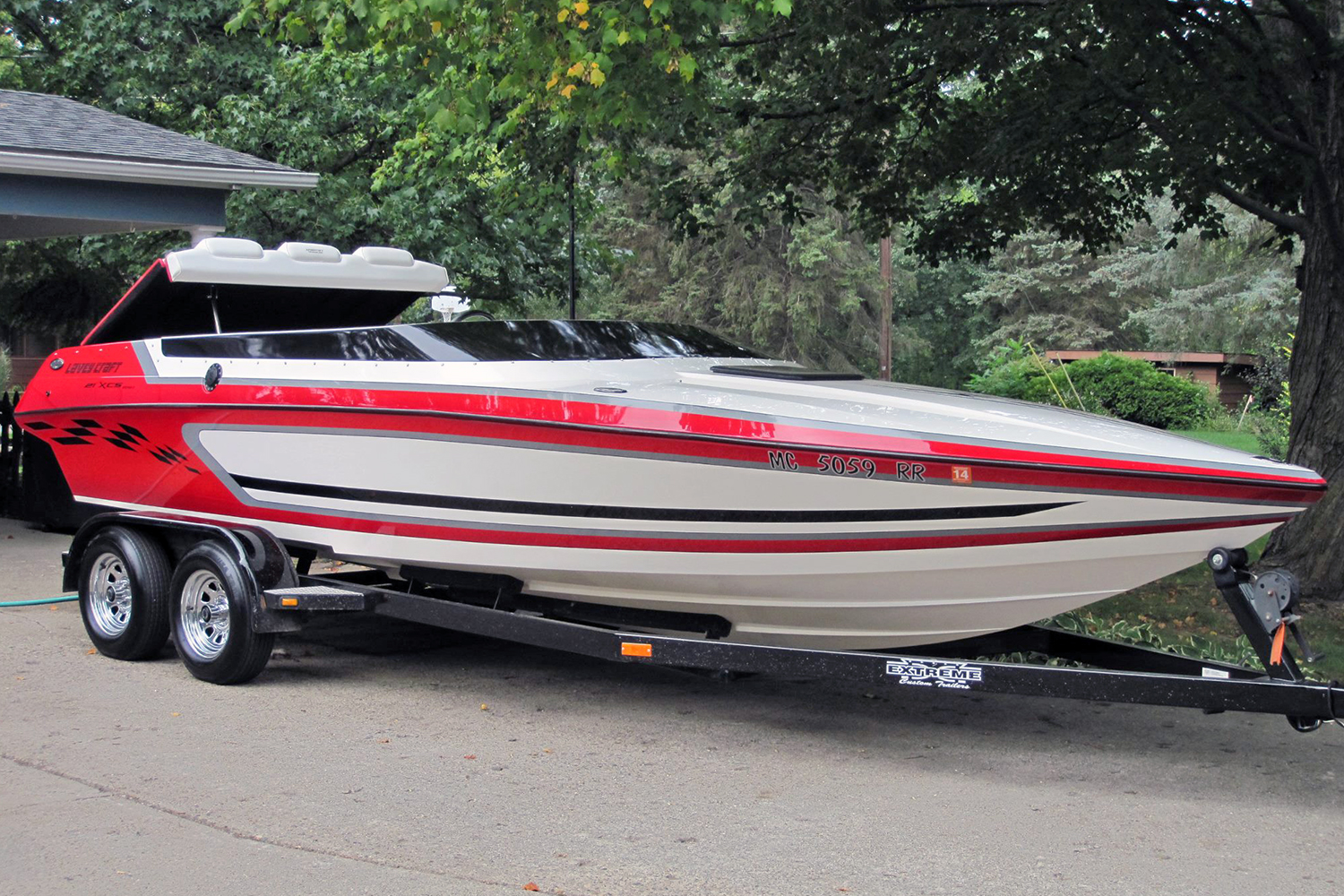 Lavey Craft has been making this for a long time. A small wave crusher and rare.
The Hallett 210 looks very similar to the original 20 Cigarette, although the hull is completely different.