Are Four Stroke Outboards Pulling Their Weight? Part 2
In the late 90s the EPA began to set goals for outboard marine engines that evolved around the same time they outlawed lead from gasoline. For outboards, the estimations were to reduce hydrocarbon emissions by 75% within 30 years. In the following years as emission mandates became more aggressive, especially in California and Europe, outboard manufacturers seemed to scramble for solutions. There were 2 ways to meet the new engine requirements: introduce 4-stroke engines throughout the range or try to improve the 2-stroke somehow.
OMC seemed to want to go in the latter direction and partnered with FICHT of Germany which had a direct injection technology that was very efficient. However, without enough testing and a few manufacturing problems, the OMC / FICHT outboards had issues and with serious competition at the time as well as customer blowback, OMC went under. OMC and the Johnson / Evinrude brand were eventually bought by Bombardier, more on that later.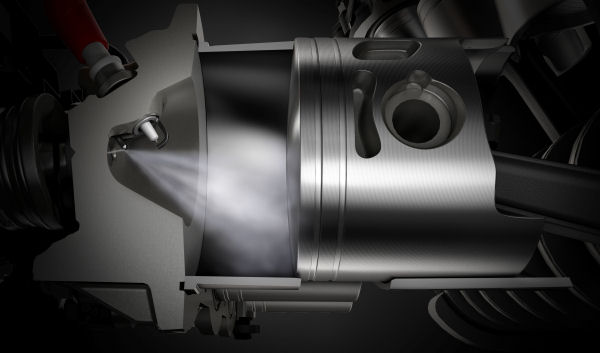 Controlled pressure, direct injection, an evolution in 2-stroke technology
Mercury Marine
Mercury seemed to go in both directions. With a large lineup of outboards and the ability to engineer solutions in house, Mercury worked on a secret project called "project x" (I think) at the time, later revealed as the Verado. They hired an engineer from Porsche, Claus Brestle, who implemented some really innovative ideas. One of the notable ideas was to integrate the hydraulic steering into the engine's bracket. Another feature was the digital throttle and shift integration, which allowed for other technologies that monitored engine performance and made the driving experience much easier. This was the first time outboard design was really changed in the sense that the engines looked quite radical at the time and the rigging was all integrated for a clean and sparse look, something the competition is just starting to emulate now. The original Verados were all based on a supercharged 2.6 block and they were the quietest engines at the time and had impressive fuel consumption numbers. The problem? Heavy as hell. Even accounting for the steering and integrated components, they were just too heavy. Additionally, the 4-stroke couldn't quite compete with the torque of the 2-strokes, at least for performance use. They worked on big center consoles and bay boats but not on lightweight performance boats, they were just too heavy and lacked the high RPM power of the 2-strokes. That's still true, the Verados are sluggish in general. I've run them on heavy fishing boats and they are great for their purpose but they are not performance engines. Part of the problem is small displacement and forced induction. The supercharger was an innovative idea and works great in automotive application but the sustained power necessary in marine use is problematic for forced induction.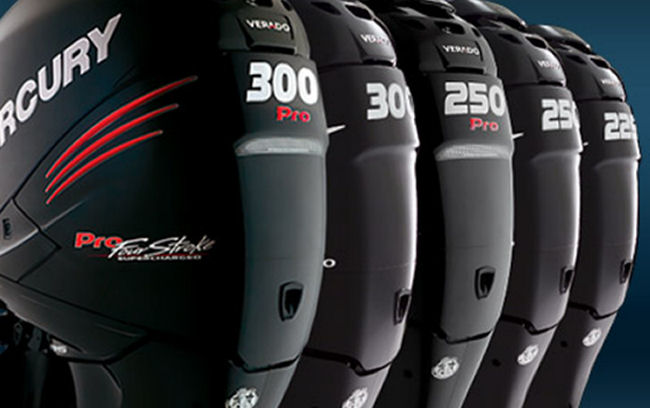 Innovative but heavy and slow. First forced induction outboard, integrated steering and digital controls.
Although the FICHT from OMC beat Mercury to the market with direct injection, Mercury patiently perfected their high pressure direct injection, clean burning Optimax engines and came out with a winner in a wide range of outboards from 75 HP to 300 HP. They are still made in the high horsepower range. Mercury appears to be phasing them out as the 4-strokes keep creeping up the lineup. The new 150 4-stroke, which is not a Verado, is promising. The new logic with 4-strokes from Mercury and Yamaha is large displacement. By having large displacement, the engine can more easily produce the the torque and power necessary at a lower RPM, putting less strain on the engine in general, without adding unnecessary weight.
Yamaha Outboards
Yamaha went the 4-stroke route gradually and admittedly, I am not as well versed on Yamaha because I grew up as a Merc guy. But, I have always been impressed by the Yamaha engines and they have always had great consumer level performance offerings over the years, from the Pro-V engines to the V-Max SHO, you get a solid and reliable platform out of the box. Add solid mounts and some of the aftermarket components available and you have a competent performance engine. The biggest problem with the new ones is the metallic grey color and the graphics but that's a non issue for most. At least they don't have the chrome vents like the old Pro-Vs had, which looked like fake jewelry on an amateur bodybuilder who's only shirt is a ripped up Gold's Gym tank top. But the new V-Max SHOs are great. The 200 and up have the large displacement 4.2 V6 and can be tuned quite easily for more power. (More on this in another article.) The gearcase on the 4.2s is really nice too. Overall, Yamaha makes a great engine. The 150 and 175 V-Max SHO are based on the 4 cylinder block and although a little on the heavy side, they are competitive at 480 lbs and appear to perform really well.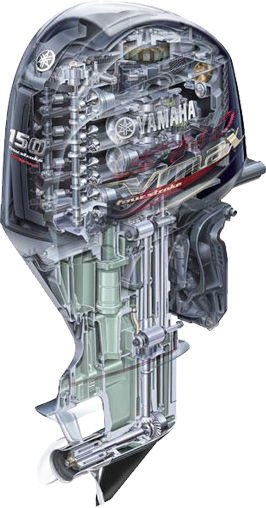 4-strokes have many more moving parts which is problematic in the quest to shed weight. Larger displacement allows for more power at low RPM, less engine strain, making 4-strokes more competitive with 2-strokes.
Suzuki Marine
Suzuki is a brand that has made some inroads in the market recently. Rightly so, their mid range (50-90 HP) 4-strokes are among the lighter outboards on the market and the price point is very attractive. I really like how they come in white and black, they really look great. For performance, they fall a bit short with their bigger engines. Again, it comes down to weight mainly. Plus, to be a true performance outboard, you need solid mounts; either metal, Delrin (a highly durable thermoplastic from DuPont) or semi solid types. You can find solid mounts on all Mercury Racing engines and as aftermarket for Yamaha and Evinrude. The 140 HP Suzuki is 394 lbs, which makes it intriguing for small boats but a 135 E-Tec HO is more stout and is only slightly heavier. If you need a 200 - 300 HP outboard for a heavy slow boat and you are tight for cash, owe money to the mob or are just behind on your alimony payments, not a bad option.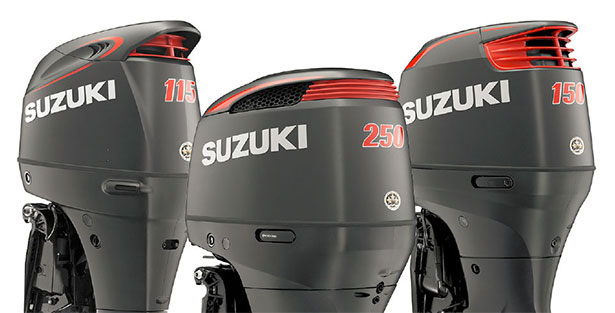 Suzuki has been in the game for a long time and are pushing hard with their current 4-stroke lineup.
Evinrude (BRP)
Since Bombardier, now BRP (Bombardier Recreational Products) bought OMC, there has been hope they could be the savior of the 2-stroke and they are, sort of. The G1 E-Tecs are true lightweight engines, especially the 2.6 models. But, they are phasing them out in favor of the G2, which is an advanced 2-stroke direct injection. When Evinrude introduced the G2, it was mixed. Well, it was actually 9 to 1 they were ugly and what were they thinking? Now, they look pretty good, I love the idea of the colored panels. The integrated steering and rigging is amazing, which all goes into an attractive cylinder at the front of the engine. The good news is the G2, depending on which reports you read, is ultra efficient, beats 4-strokes on emissions and produce torque at much lower RPMs. I have to admit, I like them. They look really unique, they seem to perform well. There are reports the steering is a bit sloppy but the 250 HO is a powerhouse. Tuff Boats has used the G2 on their 21 and 24, and put up incredible numbers. A Tuff 24 goes 96 MPH with a stock 250 HO, that's nuts. My issue is with the smaller block, 2.7 liter engines. They are too heavy, being marginally lighter than the 3.4 liter models. With the steering integrated and the mounting bracket having 6" of setback built in, you can argue it's about 30 lbs worth of extra equipment. Even then, they are over 500 lbs, the lightest 2.7 is 530 pounds. Sorry, that's too heavy or at least there is no advantage weight wise for the 2-stroke anymore.
Seven Marine
Speaking of weight, Seven Marine builds the most ridiculous outboards ever. Ever. They use a GM derived Cadillac V8 for their 2 models. At first thought to be crazy, Seven Marine used incredible engineering, an innovative transmission, longitudinal mounted engine and an incredible gearcase to handle the Cadillac CTS-V engine that you can hardly hear. Ya, it's nuts, the Cadillac engine is an aluminum 6.2 liter supercharged powerhouse. It comes in wild custom colors and looks incredible. The Seven Marine engines are sleek and beautiful, they make the G2s look like failed prototypes. Now you won't see them on light performance boats because they are obscenely heavy and too much power for most hulls they do have a purpose. When you see an offshore fishing boat or center console with 4 or 5 300+HP outboards on the back, it's time to look into the 557 or 627 from Seven Marine. You can run 1 Seven Marine instead of twins, or 2 Seven Marine instead 3 or 4 outboards. Even though the Seven's are heavy, they weigh less than 2 big block Yamahas or Verados, you have less gearcase drag and look cooler doing it. Actually, on a 28 or 30 foot offshore hull, it would be cool to run a single 627 Seven Marine! The company was started by Rich Davis and his son Brian, both with loads of engineering experience with Rick formerly at Mercury Marine. They recently sold to Volvo but are staying on board so look forward to more innovation from them.
This is part of a multi part series and in the next part, we will talk about boat design and how manufacturers are adapting to the new heavy outboards and introducing new boats to utilize the advantages modern outboards have. As always, comment below.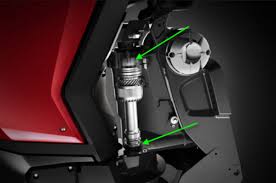 Hydraulic steering integrated into the swivel bracket of the Evinrude G2
A little video showing the FICHT direct injection in action