Best Midsize Offshore Boats Right Now
One difficult thing as a boater is finding the ideal boat, the hull that fills most of your needs. Usually, the answer depends on where you boat, who you boat with and what you do on the water. If you run on the ocean or a very large lake, you realize quickly that you need some deadrise and some freeboard to play in the big waves. If you're lucky enough to have multiple boats, then the ultimate boat isn't a problem for you, but for most, just owning 1 boat is a large investment. That's why the midsize offshore range 28-32 is such a popular category. Many are hulls that have been raced, used for pleasure and have stood the test of time in big water.
My favorite part is you can run a single engine in most of them. In the last 10 years, engines have gotten more powerful and reliable, so running a single 500+ or 600+ HP engine out of the box with a full warranty isn't exotic at all. With that said, here is a selection of different hulls from 28 to 30 feet that come from a variety of builders, mainstream to custom, and fit a range of budgets. One thing they have in common is, when the water kicks up, you don't have to back down. I wanted to keep this group under 30 feet to keep the selection reasonable.
Lavey Craft 28 Evo (website)
If you truly want a custom offshore capable boat under 30' that makes no compromises, this is it. Lavey Craft took their proven NuEra hull, with a 24 degree deadrise and 28'6" center-line and configured the 28 Evo to be a true competition boat. Also available in a closed cockpit, the full windscreen of the Evo is to me better all around choice than the NuEra and gives the stealthy boat a serious performance look.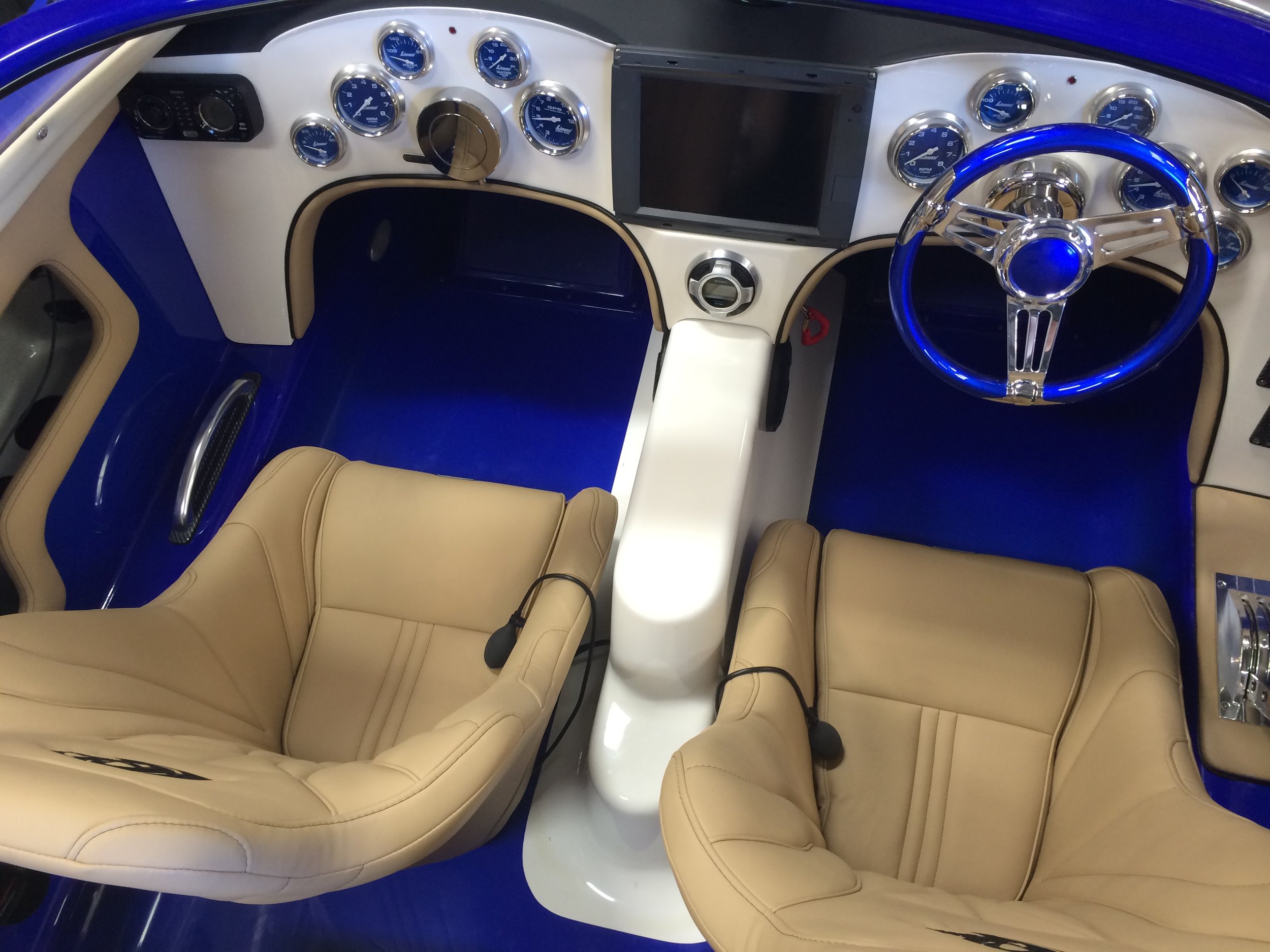 More race than pleasure but beautifully done interior.
The hull itself is a ventilated double step with deep strakes, allowing it to track well in all conditions. Single engine only and since Lavey Craft is a custom builder, you can configure it to your liking, knowing you'll have one of the fastest and slickest looking 28 footers around. A single 600 HP gets you close to 90 MPH and a 710 HP checks 97 MPH, while being more than capable of handling those speeds. The boat weighs approximately 4,500 Lbs. and is well known for its handling and capabilities.
Outerlimits SV 29 (website)
The Outerlimits SV 29 is one of the most breathtaking boats you'll see in person. Available since 2012 and designed fresh by the Outerlimits team, including the late Mike Fiore who was the founder and lead designer of all Outerlimits V bottoms. When you want the most cutting edge single engine offshore, this is the one. Outerlimits made the SV 29 lean and mean. A 29'11" centerline, closer to a 28' running surface, and a narrow 8' beam gives it a sinister look. Like all Outerlimits, it is built to race and crush waves. The hull has multi-steps, 2 ahead of the center of gravity, variable deadrise and a V pad, which let's the boat fly; cracking 100 MPH with 600 HP; the perfect power for this svelte 29 footer. How is it so fast? Incredible design, including aerodynamics, perfect balance and cutting edge materials.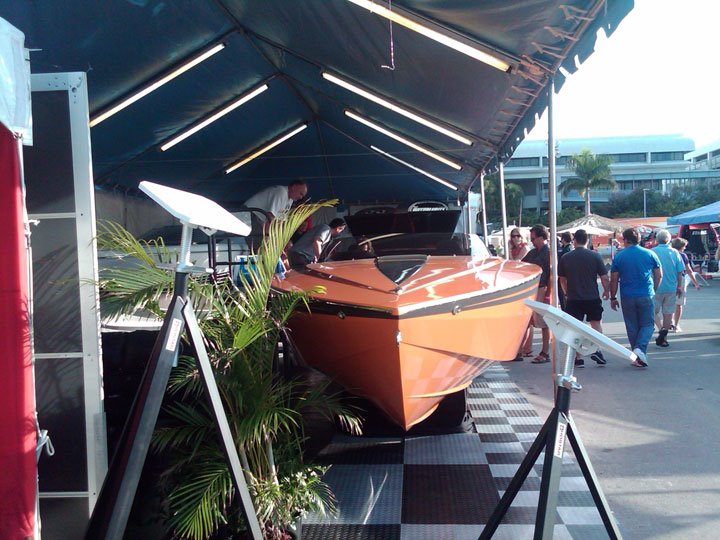 Cutting edge design in every way. One of the fastest single engine offshore hulls around.
Outerlimits builds the SV 29 in Bristol, Rhode Island and is the perfect boat to aspire too if you're moving up. In fact, if you love offshore boats, but are just sick of paying for and maintaining a big multi-engine boat, this is the perfect way to downsize, without sacrificing anything. Seating for 5 comfortably and a simple cabin make it usable for more than top speed runs. But, the interior is all business with race buckets and a sleek wind fairing. Although you can have it painted anyway you want, a simple color scheme shows off the gorgeous lines of this boat. There are rumors they will be re-designing the hull for an outboard version, should be interesting.
Active Thunder Savage 29 (website)
I really appreciate Florida based Active Thunder for being early in the outboard offering for this size offshore boats. They make the 28 Savage with multiple engine configurations and it seems like the most popular now is twin 300 HP Verados. Either way, what you get is a classic looking, sleek offshore hull that is also very versatile as a family hauler. Active Thunder even makes a bowrider version, I am personally not a bowrider fan for any hull but you can't blame them for addressing a market there. With a single 520 HP, you can run in the mid 70s and cruise nicely around 50 MPH. This is a solid single step hull, single step, and a deep deadrise.
Active Thunder will run with other offshore boats and you can bring the whole family.
Active Thunder utilizes a full composite build, vacuum bagged and with Divinycell for core material. Transom and stringers are a urethane composite. A few things that are nice are the non-skid walk around and the creative seating layout, making it truly a great boat to load up with friends. At 5,000 Lbs. it will confidently handle the rough stuff. Florida is such a competitive boating market, you get incredible value here with a truly versatile boat. It may not win the race but you it will win the popularity contest with friends and family.
Classic design and a no nonsense approach make the Saber 28 a winner. Saber has been doing this for a long time and the Saber 28 might be there most popular hull over time. A traditional builder, made in Michigan, with a proven straight 24 degree deadrise hull, you can hit the water hard. I appreciate the looks of the Saber, if you like the old "flat deck" look of early offshore boats, then this hits the mark. Custom painted, and available in multiple engine offerings, including the twin Verado option, which seems to be popular.
Classic flat deck, simple layout, proven design, make the Saber a great value.
The Saber 28 is the smallest boat here, but it's 28'1" length and narrow 7'11" beam are an advantage on the water in some conditions. Built custom to order with a host of options and dependent on power choice, all hulls are balsa cored. I think a single 500+ HP is your best bet here and not twin sterndrives, on the other hand, twin outboards would be an efficient package. Old school with a touch of modern class, the Saber is a timeless hull.
Shockwave 29 Magnatude (website)
Shockwave has been building boats in California since 1993 and has been growing strong ever since. When you see the gelcoat work and construction, it's not hard to see why. After building their brand on 21 and 22 foot hot rods, they moved into the deep V market with the same philosophy, great styling, top notch build and service. The 29 Magnatude has the offshore ingredients, 24 degree deadrise with twin steps but with a California flare. Even though the deck is super low and sleek the hull has ample freeboard and it's deep, so it looks like a big boat and the beam is generous at 102".
The 29 is the biggest boat on the list and is a real custom boat from a great builder.
Optional features include a fiberglass liner and twin engines, I think the 29 Magnatude can pull off twins. Like a lot of California builders, they make a mid cabin open bow, I like the closed bow personally, nothing like stuffing an open bow to ruin the day, but that's just me I am old school. The boat itself is a head turner, the wind fairing is low and molded in. If you run this on the East Coast, it will be a head turner because of its unique look. A nice custom offering with room for the family.
Formula 292 Fastech (website)
Formula is building less and less performance boats these days, as their market has transitioned to family cruisers and family sportboats. It's too bad because they do a nice job on the Fastechs and the 292 is my favorite Formula. They have the character of the old SR Formulas but the Fastech hull features a twin step, deep V, that is not the fastest here but definitely competent in big water. What you do get is one of the most stylish offshore boats in this size range and some real luxury and creature comforts some of the others don't have, like well appointed cabin, shower station and the Mcleod bolsters.
Fit and finish is a strong point here. Decent performance and excellent usability.
Formula still uses Imron paint for graphics and has forever, ultra durable and will shine longer than traditional gelcoat but not quite as deep and clear as some of the more modern 2 stage paints you see custom builders doing now. With Livorsi instruments and a large number of options, you can personalize your 292 extensively. However, you can only choose between 2 power options, the 300 and 350 HP 6.2L engines from MerCruiser. The price eclipses $250,000 quickly but the manufacturer's price ends up being closer to $200,000 as they offer discounts. You can configure it online just like a car website. Beautiful boat and seem to have great resale value.
Hustler 29 Rockit (website)
Hustler Powerboats made this 29 footer new in 2012, it's a very well designed boat that has a unique look like all Hustlers do. Hustler has been building boats of all sizes for a long time and the attention to detail shows. Another advantage of a newer design like this is not only do you benefit from the modern designed hull, you get a great dash layout with all the modern touches. Room for six and sporting a deep cabin, makes it a really great option for those looking for more than just sandbar runs. It is about 4,500 Lbs and has a narrow 8' beam, you can get it with single stock 430 HP for a great economical package or pony up for a Mercury Racing unit up to 600 HP for speeds in the mid 80s.
The Hustler does everything well, from great performance to excellent usability.
If you want a single engine offshore boat that can run with the big boys, has all the right qualities, like offshore bolsters, a smart wind fairing and beautiful custom paint work, this is a great choice. Hustlers are built to withstand the toughest conditions, foam core construction, with wood stringers in the engine compartment. Rigging is top notch as you would expect from the NY builder. When you see it in person you'll appreciate it's dimensions, practicality and unique design.
 
Formula 292 Fastech Interior