Are Four Stroke Outboards Pulling Their Weight? Part 1
If there is one category that has grown significantly in the last 5 years it is outboards on family sport boats and performance boats. Now, we are even seeing cruisers in the 30 foot and larger range with big outboards. I saw new cruisers from Formula and Regal boats this year at the Miami Boat Show. Big outboards, compared to i/o, make sense for many applications; they are quiet, powerful, reliable, easy to service and can provide better weight distribution. For design, they make better use of space in the cockpit as well. On top of that, many meet or exceed the restrictive emission requirements imposed by the government on marine engines.
As performance minded boaters, we have seen the slow demise of the small displacement, lightweight and powerful two stroke outboards. There are not many left, in fact as of this publication, Evinrude just discontinued the G1 big blocks in the 200 to 300 range and the small block 175 and 200 are no longer available. The G1 200 was the lightest available 200 HP outboard available up until recently. Basically, Mercury offers the 150 and 175 Pro XS, which are great motors and Evinrude offers the 135 and 150 HO G1s which are also great motors. The new G2 small blocks from Evinrude are heavy. Even when you don't include the integrated steering, they are substantially heavier than 2.5 Mercs and 2.6 G1 Evinrudes. This was really disappointing, because I was hoping the G2 small blocks would've provided performance boaters with a lightweight alternative.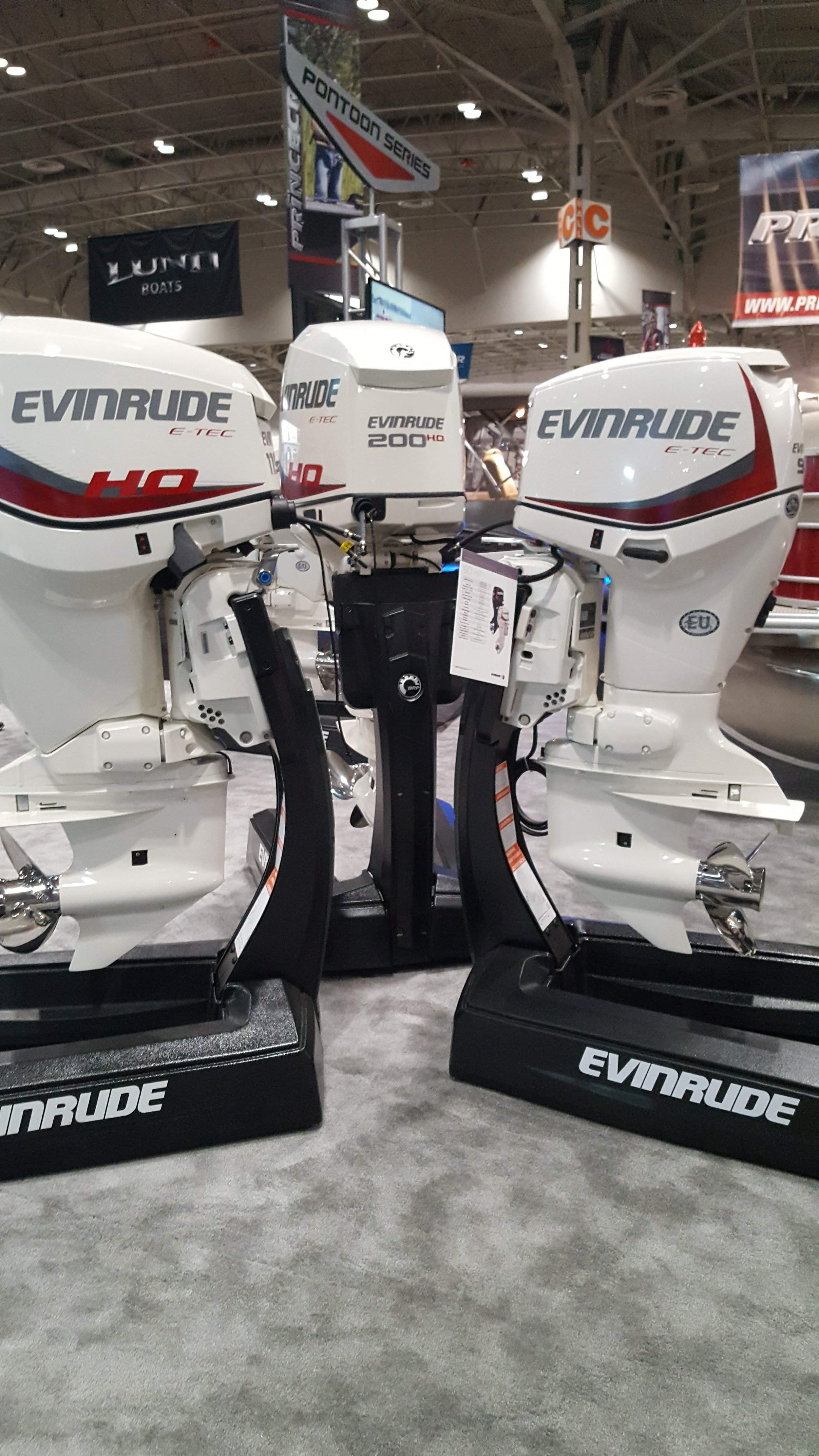 The G1 E-tec is slowly being discontinued with the demise of the 175 to 300 HP range.
Boaters now have to shop for 500 + lbs engines if they want 200 or more horsepower. For lightweight boats like Allisons, Triads, STVs and many others, it creates a problem. Continue to run your ageing 2.5 Mercury: Promax / race, older Yamaha or OMC; or buy a new engine that has far less power, albeit more efficient. If you are determined to get a lightweight engine that is new, you can get a Caldwell Racing 2.5, which is a work of art and is a killer replacement for old racing engines. It is not for everyone though and it is definitely suited more to racers than consumers.
The 200 to 300 horsepower engines from the big manufacturers are at least 505 lbs, that's pretty heavy. Some small boats can handle them, like Tuffs, Progressions, Checkmates and Bullets to name a few, but the heavy engines don't handle as well as the lighter ones. Just 100 lbs more on the transom of a light boat can really change the handling characteristics. But, it is interesting because as the two-strokes get heavier, the four-strokes are getting lighter. Mercury Verados were cutting edge when they were introduced in 2004 and cost a fortune to develop but are heavy and best used on tugboats.
Are 2 strokes going to die completely? I don't think so, not as long as BRP keeps making Evinrude. There is the question though. As the bigger two-strokes weigh the same and considering the EPA emission standards and the international standards outboard engines have to meet, it seems like the four-stroke "advantage" is not there anymore. Evinrude and Mercury are making two-strokes that meet or exceed the emissions of some four-strokes, so why kill them? A V6 two-stroke can have about a hundred fewer parts. The EPA demands emissions testing up to 350 hours which presumably Mercury and Evinrude are meeting.
Is this a market opportunity? I thought it was. To me, Evinrude dropped the ball with the G2 2.7 based engine. If that line of 150 to 200 engines weighed about 75 lbs less, then it becomes a huge competitive advantage over the four-strokes. That used to be the sell, they are lighter and more powerful; not anymore. I think they missed a big market opportunity there. They actually weigh about the same as the big blocks, 510 to 530 lbs.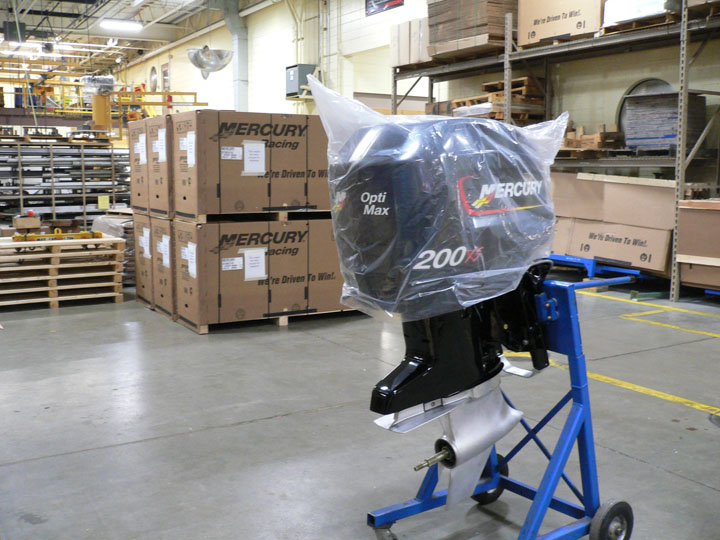 2.5 200 XS is not available to consumers
My prediction is Mercury is going to add more range to their very popular 150 HP four-stroke, it is a large displacement 4 cylinder engine, 3.0 litre, that weighs 450 lbs, which is competitive with the small block Pro XS and Evinrude HOs and it can make 200 HP easily. Anticipate seeing Pro versions of that engine for the bass and performance market, semi solid mounts, ECUs that let it rev up a little and push the HP limits. The Yamaha 150 and 175 Vmax SHOs are too heavy at 480 lbs. If Mercury does that 150 engine in a 175 and 200, the Merc two-strokes will probably end. As for Mercury Racing, I'm not sure. They claim there just isn't a market for a light 225 HP range, although you can technically buy a 200 XS race version, with a 15" mid. Again, it is a great engine but lots of boaters don't want to run a 15" mid and I don't believe it has a warranty. Rumor is it pushes about 240 real world HP though. Plus, will the four-strokes trickle down in the Mercury Racing lineup? Maybe.
Four-strokes are here to stay, they will probably segway into electric or electric hybrid style motors eventually. I know that sounds crazy but it is going to happen, the boat industry is always about a decade behind automotive.
Part 2 will look at the direction of Seven Marine, Suzuki, Yamaha, Mercury, Evinrude and 4-strokes for performance use.