Classic Midsize Sport Boats: Performance and Design from the Nineties
If we are talking about classic performance boats in the 23' to 27' range, we are talking about a huge number of boats. If we go back to the nineties, big name brands were in this market, along with small manufacturers and custom builders; the range is Formula and Fountain Powerboats to Activator and Progression, and everything in between. Some west coast, some east coast.
I feel like the nineties was a heyday for boat design. Don't get me wrong, the sixties and seventies had some of the most game changing design revolutions in boat history, but the 90s boats became more modern, as the competition was fierce. In this article I want to pick out some of the most iconic classics from the nineties era, ones you might find used for sale today at bargain prices. What makes them iconic? The design, uniqueness, performance and a little bit of the brand.
Fountain 24 CS
What makes this an instant classic is the looks. These look crazy. Modeled after the Fountain 47 CS, the 24 CS is low and incredibly sleek. The hull is a bit of a compromise, with a shallow 17 degree deadrise, but in the end, if you know a good dentist and chiropractor who really cares.
Style over substance? A little bit, but this is a very unique boat.
A short production run with low volume makes these quite rare, compared to the popular 27' Fever. They came with nice graphics packages, were well equipped, and interiors are very nice. Most, if not all had a small ballast tank, to tame any porpoising, and gold chains were optional. Is it more show than go? Yes. Does it matter? No.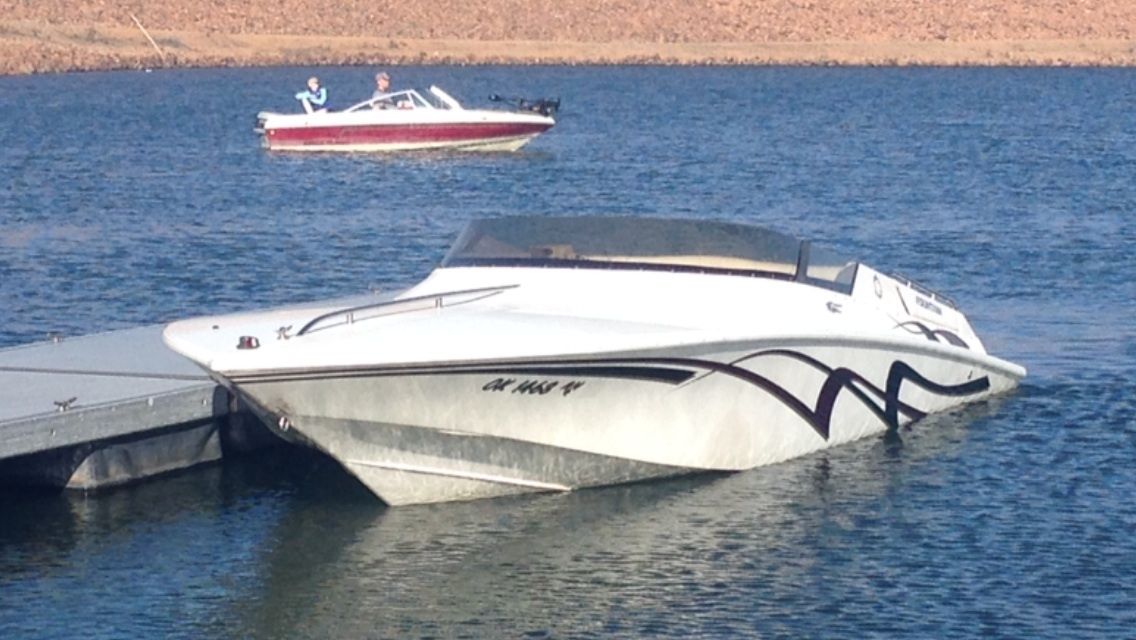 In person, they look crazy.
Scarab 26 Flatdeck
This hull is legendary and personally my favorite Scarab. This is an original Larry Smith design and the first hull was pulled in 1985 for Tom Gentry. They are very rare. After 1990, the hull was reconfigured with steps and used in F1 racing. A few hulls stemmed from the original design, the beautiful Scarab 26' CV, and the The Wellcraft Scarab 28' Excel, which has swim platforms and a Wellcraft designed deck.
With a traditional 24 degree hull, straight with no steps, and narrow strakes at the keel creating a delta pad; the hull is renowned as it won many races in the 90s. Many who ran the hull say the original Larry Smith non-stepped hull was better all around, and amazing in the rough stuff. Not long ago, Dan MacNamara of Speedster Powerboats, was making a few new boats, just like the originals. I'm not sure if he still is but the one here looks unbelievable. If you can get your hands on a 26 Scarab flat deck or CV, don't hesitate.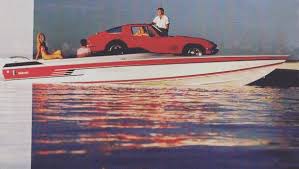 An old ad with a 26 CV and a Corvette. The guy with the Vette, wishing he was in the boat.
Activator 27
Another legendary offshore race hull, the 27' Activator, designed and raced by Mark Schnepf, is a beautiful boat. What is striking is the narrow beam and low slung classic lines, as well as the signature raised center deck line. Schnepf's 27 Activator won many races and positioned Activator as a top notch offshore race hull. The hull was later revised with steps, which was faster, and inspired the 30' and 32' Rage Powerboats hulls that came later.
Again, these are hard to find, but they are built like prison bathroom sinks, designed to take a beating, so if you find one, you can run it hard.
Mirage 257 Trovare
Although this seems out of place here, these are real sleepers. With a sharp 24 degree V, and reasonably light build, these things went really well with a stock 454 Magnum, or 502. Decent cabin space and cockpit for a family hauler. Plus, the full windshield makes passengers happy. Mirage were built in Washington state, not to be confused with the older Mirage offshore boats from Miami. Mirage of Washington state, went out of business in the 2000s.
A sleek family boat that really rides nice. Back when you could buy family boats without wakeboard towers and full kitchens on board.
My brother had the smaller Mirage 232 Trovare, and it was a great boat, rode really well compared to other family lake boats. I wouldn't be afraid to run this in the ocean either. The 257 offers great value, if you're in the market for a used 25 to 27' sport boat, this will be more practical and outperform big name competitors at a much lower price.
Howard 23 Offshore
I believe these were based off the 23' Warlock hull, and there were two different versions, one with a slight hull design change, Howard added a pad. Either way, the Warlock and the Howard version are stunning boats. Long lean and mean for a 23 foot hull. With just a 6' beam, the cockpit was very tight, but who cares when you're driving.
These are very hard to find, especially the Howard version. If you find one, keep it, restore it and never let it go. You just can't buy anything this cool anymore.
An early Warlock version with a square windshield. Classic.
Active Thunder 25 Tantrum
A true classic small offshore. Great layout for a small boat, and well built. Like most of the boats on here, they are not easy to find, but if you find a clean one, it's hard to go wrong. Active Thunder boats have a distinct look, with the raised faring and fairly high freeboard. Owners seem to love them, which is probably why they are hard to find, nobody wants to sell them.
Good things come in small packages. I love single engine boats, and this is a really nice single engine offshore option.
With a center line of 24'6 and a 7'8" beam, this 4,300 pound hull can crush waves as well as any 25' out there.
Nordic 25 Scandia
Nordic is a company I have always liked and they have emerged as a leader among the California builders with dramatic styling, innovative designs and great build quality. They seem to have something for everyone in their lineup too. In this size range, for classics, it is hard to not like the 25 Scandia, which eventually morphed into the 25 Rage, which I love. The Scandia is not as good as the Rage, but the styling is way ahead of its time, it's hard to believe the design is about 35 years old. Great lake boat.
You can probably find these for less than a clapped out, high mileage F-150, but you'll look like a million bucks behind the wheel.
Progression 27
Personally, I like all the Progression boats. A no nonsense builder from NY, making boats built for the rough stuff, they are lean and mean, with an all business look to them. The 27 stands out, at 26'11" and built fairly light, these can really fly. They make a very cool 24 as well, but the 27 has the long lean lines a bigger boat can have.
While it looks old school now, it doesn't look dated by any means. And, with quite a few made with outboards, you can repower an older one fairly easily. You may want to look at a used one carefully, as many were raced hard, but they were built for it.
Formula 242 LS
You still see quite a few of these on the water, which is not surprising. Built to last, and with the looks of a big Formula, you can keep these forever. Although known to be heavy, and a bit sluggish, these are great family cruisers.
If you restored it, lightened it up, you could re-power with a modest big block and run pretty good. Probably my favorite Formula from the 90s, along with the 271 SR1. You did see this with twins, which seems crazy, but they could run them. Good restoration candidate.