Offshore Resurgence: Are Big Outboards Better than Big V-8 Sterndrives?
A noticeable number of new midsize offshore boats and big lake performance boats are running outboards now. Outboards have always been a part of offshore racing but in the 70s they were primarily run on small single engine applications. Before that you would sometimes see multiple straight six mercs on offshore boats under 30 feet but that was rare and they really didn't have the power and dependability the inboards did at the time. When Mercury broke through with the V6 models in the 70s and evolved their 2.0 and 2.4 engines in the early 80s into more robust engines, there was a larger adoption of outboards for bigger boats. For consumer performance boats though, it was still quite rare as even a mild V8 was more attractive for most recreational performance boaters running in big water on hulls larger than 25 feet.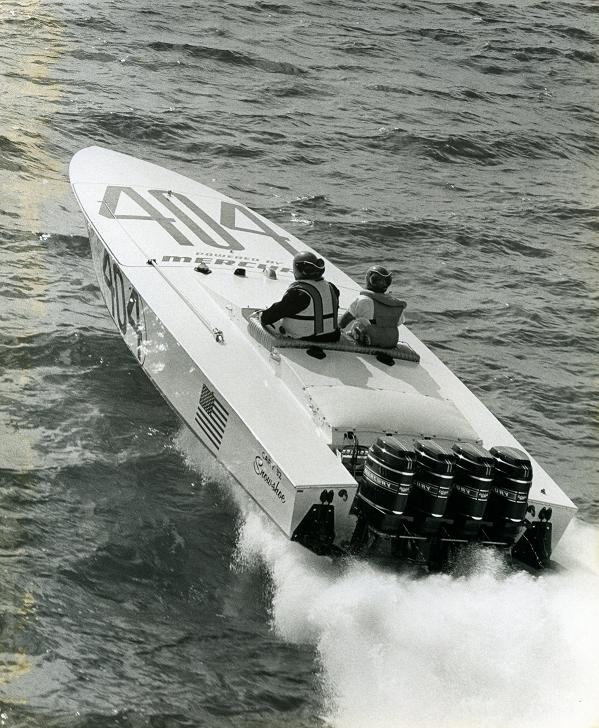 You see quad setups regularly now, back then it was very rare and only in racing, like on this 32 Cary.
Fast forward to today and in the last several years we have seen traditional and new offshore boats fitted with the latest big outboards. The benefits are many; more room in the cockpit, ease of maintenance, less cost, efficiency and sometimes improved weight distribution. For everyday boaters who can't afford most of the boats mentioned below, a great restoration idea can be to remove the old iron V8s and get a bracket to re-power with outboards.
Here are some examples of midsize offshore boats and big lake boats that are using the latest outboards to their advantage. Some are classics you've seen before, some are brand new hulls designed for outboards. Either, they might inspire to re-power an old rig with outboards.
If I missed your favorite boat, let me know in the comments below.
Saber Marine - Website
Convert to Outboard?
 
I would say yes. If you're re-powering and you're basically doing a full restoration, go for it. If it is a special or valuable boat, keep it original. There are some great boats out there that just need a little glass work, some paint, a transom bracket and you are good to go.
the tower of power, big back then.