Family First: A Hustler Victor Sparkles Again
Every restoration has a story and sometimes that story hits close to home. For Dan Umbarger, the restoration of this Hustler Victor has more than a little meaning, this boat represents the start of his father's boat business and racing career. The 16 foot Victor is a true legend of it's era. Dan's father, Jim Umbarger, had worked for Switzer Craft boats and OMC before going into business for himself in 1965. After building some wooden boats out of his garage, Jim went on to his first fiberglass hull. The Victor was raced successfully and helped make Hustler become a great sport boat builder in the Illinois area for a long time. Hustler Sport Boats continued after building on the retail and sales side of the business.
Dan's brother found the hull and Dan felt a compulsion to restore the classic back to original. The way Dan did it, the boat might be better than new. Restorations are painstaking sometimes but for Dan, this build means as much to him as it does for his father Jim. The metallic blue Victor is a tribute to his Dad.
Like many full restorations, the hull needed everything. Dan did it right; he separated the hull and deck, replaced all rotten materials. New stringers, bulkheads and transom bring the structure back. Once the glass work was done, Dan decided to make it just like the original. One difficult thing is redoing the beautiful blue metal flake. Dan did the work by spraying the light blue, laying down the flake and finishing with about 9 coats of clear. Is it time consuming? Yup. But it is worth it, the boat sparkles like it was brand new. Dan made it known, he did more sanding than the Karate Kid, with lots of layers to get that perfect finish.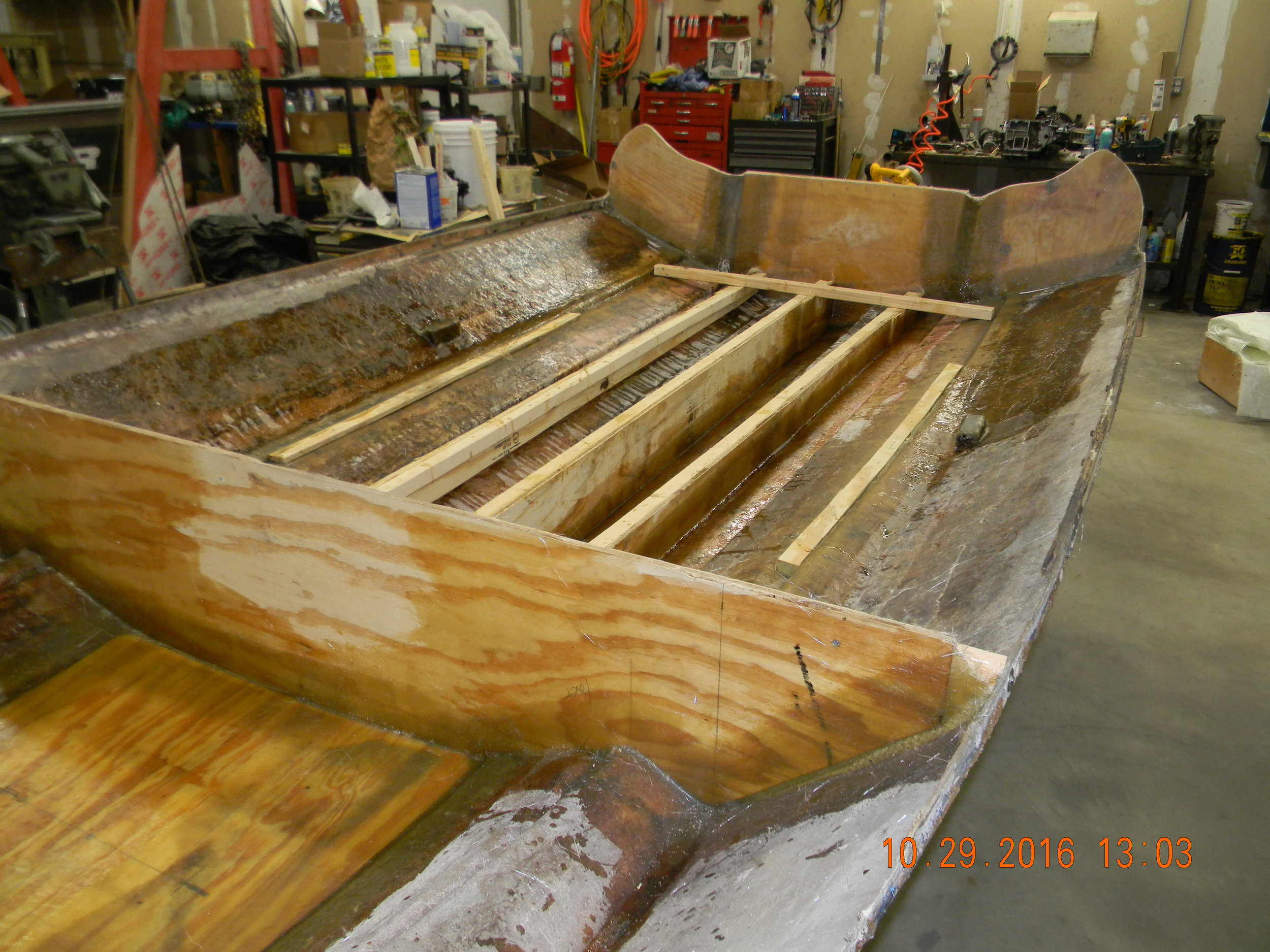 Bulkheads, stringers, transom all addressed in this deck off restoration.
The Victor is Dan's favorite and part of the reason is when his father began racing a Victor with twin 105 HP Chryslers, he took home the national championship and was voted into the Gulf Hall of Fame in 1967. Jim and this hull made a huge impact.
After about a year of restoring the Victor, Dan has rigged it with a 1975 135 Johnson. I love the idea of similar vintage engine on an older hull. All hardware and rigging is like new and the Hustler has two bucket seats but will have a complete interior redo as well this winter. The goal for Dan is take his father, who is 83, out for a rip. You know his dad will be incredibly proud of the work Dan did and how these boats make people reminisce about the old days. How does it go? In early testing, Dan has the Johnson setup with 4" of setback and got 51 MPH and with a different prop waiting to be tested, he should be at his goal of mid to high 50s. This is an incredible restoration with an amazing story, thanks to Dan and Jim Umbarger for sharing the story. We know they'll appreciate the boat for many more years.