A Legendary 24 Pantera: Built to Perfection
What happens when you take the second 24 Pantera ever built and put it in the hands of a true boating enthusiast who has incredible mechanical aptitude and next level attention to detail? You get one of the nicest restored classic offshore boats around. The 24 Pantera is personally one of my favorite boats of all time and is a legendary boat in every way. Thankfully, someone with Rob Reminder's ability got his hands on this special one and made it a showstopper.
Rob is from Ohio and does his boating on the west basin of Lake Erie with his family. In 2011, Rob bought the boat from a friend, who owned the boat since 1979. This one is a 1977 model, the second 24 ever built and originally had a small block mated to a Volvo 280. The 24 was soon fitted with a 426 Hemi, which was run for most of its life. When Rob acquired it, there was no engine, the boat was basically a shell. Pantera's are built as solid as anything out there but this one needed a full overhaul. In the fall of 2011, Rob decided to go "full tilt" on the restoration, and that's exactly what he did.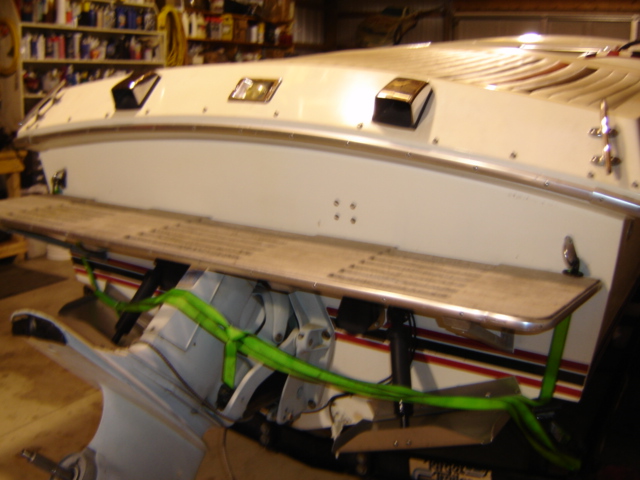 The original Volvo 280, no engine but mostly intact 1977 24 Pantera.
The hull was stripped and the stringers, bulkhead and floor were replaced with vinylester resin and 1708 cloth. The transom was redone to accommodate a Bravo drive. A florida marine tank was added in the process. An amazing detail is the floor was laminated with teak battens, with epoxy resin mixed with graphite to get the black grout lines. The floor is just one of the details that make this incredible offshore classic special.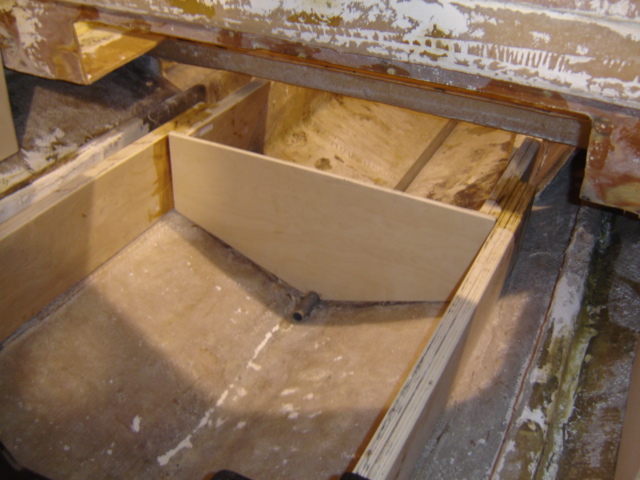 New bulkheads, stringers and transom set the foundation for the complete restoration.
Rob claims the hull was actually in pretty decent shape, given the age, a testament to the original build quality. Yet, in order to get to the level of quality and performance Rob was after, he built a rotisserie to turn it over and spent tons of time with thickened epoxy repairing imperfections. After which, the hull was blueprinted with much time fairing and sanding to make it sharp and dead straight. The hull was gel coated and then polished and buffed to perfection. In any restoration, the time spent blueprinting the hull is critical.
With the hull set, it was time to move on to the boat above the waterline. I think Rob made an excellent choice on color and design, it keeps the simplicity of the original Pantera's while being super modern with the clean look of the black and white. The boat was epoxy primed, surfaced and painted with PPG DCC Concept acrylic urethane. Rob decided to paint the Pantera lettering and boot stripe, then clearcoat it to smooth the two layers of paint. 3M Trizact 3000 was used for the final sand and it was buffed with Presta Products 2 step buffing system.
Black sides were painted in PPG DCC concept acrylic urethane.
The interior is another example of how far Rob went to make this boat special. XT Innovations in Bucyrus Ohio, redid the beautiful pleated pattern and embroidered the Pantera logo on the seatbacks. Again, it is true to the original and is just the right amount of custom to make your jaw drop, along with the custom teak floor. The fully refinished dash and gauges are the finishing touch. The rub rail is original and restored and the deck hardware has been rechromed. The rigging illustrates Rob's detail work and is so clean it would make a Swiss watchmaker jealous.
What do you use to power a fully restored offshore legend like this Pantera is? How about an Ilmor built APBA spec 512 CI big block. For driveability, it is detuned to 650 HP, and is a dry sump engine, featuring Brodix heads and intake. The Bravo 1 drive is built up by Mr. Gadgets in Holland Michigan; with a steel tower, hard shim and Mercury Racing top cap and studs. Rob estimates his 24 Pantera is good for about 80 MPH, I think that's probably conservative. Either way, it's a fast boat built for the rough stuff.
What makes this boat extra special is it is the second 24 built by Pepe Nunez in Miami, Florida. The hull is originally a Magnum design, with Pepe's own deck and other touches. With a sharp deadrise, the hull has a narrow 7' beam, it features full length strakes and a narrow pad. The hull has gone on to be a championship race boat and set records including the Miami to New York run in 1978, achieved in a 24 outboard model with early Mercury Racing 2.4 engines. Pantera is a family run race boat company in Miami.
This restoration is extra special and we really appreciate Rob Reminder sharing it with us. Rob is a professional electrician by trade and you can tell he is highly skilled and has incredible attention to detail. I am glad this boat ended up with Rob, he really did it justice.
 
Autometer gauges and classic controls, monitor the 24 foot beast.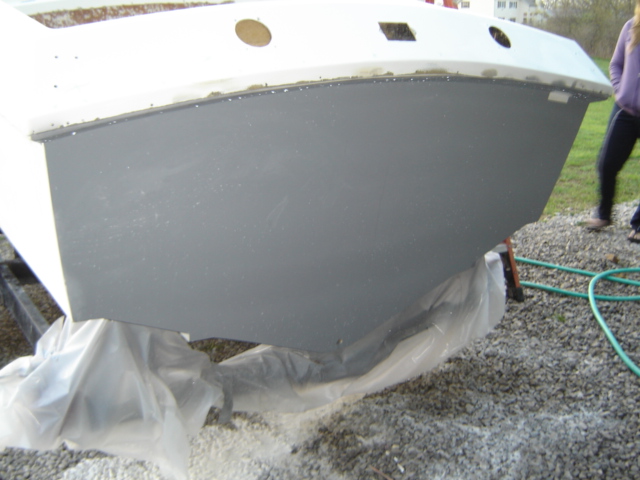 The transom was redone to accommodate the built Bravo drive.
A 24 Pantera race version, Plum Loco, in action.