Lean and Mean Mirage Restoration: Part of the Family
For most people into performance boats, there is usually a person that is responsible for getting them involved, and more often than not, it is a family member. In Nick Petersen's case, his grandfather and his dad would be responsible for his passion for going fast on the water. Nick's grandfather purchased a stunning 1953 Switzer Craft Bullet brand new, that is still running and in the family. Funny enough,that Switzer was partly responsible for Nick's grandfather meeting his grandmother. During the eighties, Nick's dad raced stock D and C runabout class, as well as D hydro class racing. How deep is the passion for boats in Nick's family? His dad purchased a GW Invader with a Mark 55 Merc as a gift for Nick when he was just one year old. When Nick grew up, he ran that Invader as much as he could, and he still runs it to this day.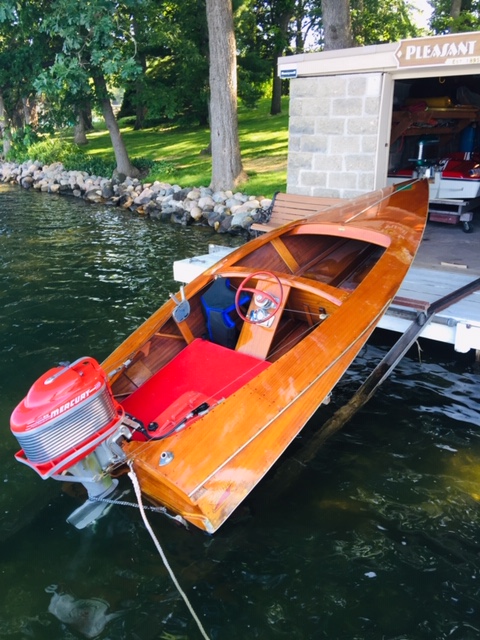 This classic 1953 Switzer Craft may have started it all. Nick's family still runs it.
When Nick isn't ripping up the water in Lake Winnebago, Wisconsin, he works as a propeller specialist and project manager at Mercury Racing. His first project was with his dad where they restored a classic 1977 Switzer Craft SS170. They ran the Switzer for a while, but when Nick noticed his friends Hydrostream Ventura 2, he really became fascinated with the revolutionary boats from Howard Pipcorn. Nick has owned and restored six Hydrostreams over the years. From this experience, Nick met Brian Carhart, who is well known for restoring performance boats in his area, and has saved countless Hydrostreams from extinction, and does amazing work.
After running pad bottom V hulls for so long, Nick became interested in owning a tunnel hull. Through a friend, he came across an original 1994 Mirage Mod VP race boat. He knew the boat was a project, but it was a light layup, and the Mirage hull is legendary in its performance, it was perfect.
Nick had Brian Carhart restore the structure of the boat. The transom, stringers and most of the core were redone, additionally, Brian made a cool pod for the switches and key, as well as redoing the dash. The inside is new gelcoat with webbing. With plans for big power, they placed a new 16 gallon fuel cell, aluminum battery box, and custom billet oil tank holder, low and in the middle of the boat for balance, and being mindful of the center of gravity.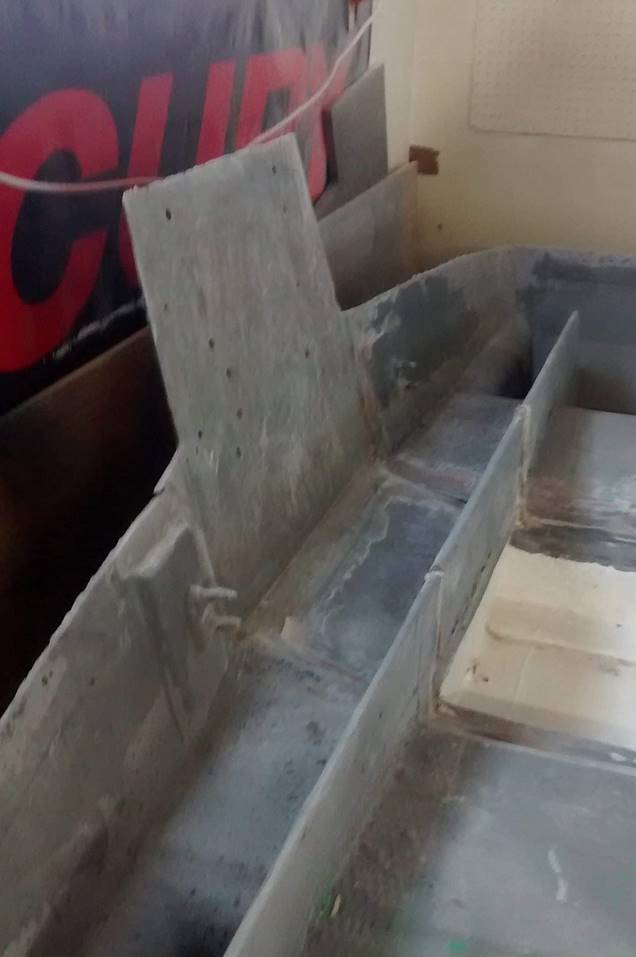 The structure of the Mirage was addressed by replacing the transom, stringers, and core of the hull.
For the rest of the boat, Nick handled the rigging, and remarked how easy it was the with the new technology. Using a 14 pin wiring harness, he hooked up a Mercury Vessel View 402 monitor right in the middle, with SC1000 gauges on either side. This looks like a stealth fighter setup, and is a smart way to go. Nick also opted for a single bucket, keeping the interior uncluttered and simple. Since the original trailer fit so perfectly, Nick ended up restoring that too, with all new hardware and wiring.
With the structure, rigging, power and everything decided, there was only one thing left. What color should it be? Fast boats often come in loud colors, wild graphics, and that is cool in a way, but I love what Nick did here. He opted for a single stage metallic gunmetal. When he got the boat, it already had paint, and the boat was relatively smooth underneath, so after sanding it down, he had a great starting point for paint. The look is unbelievable, it suits the race boat that it is, while providing just enough sparkle up close to let everyone know the Mirage means business on the water and at the dock.
Speaking of business, this Mirage is in the business of going fast, and that's exactly what it does. A Mercury Racing 300 XS was hung on the back, bolted to a 5.5 inch jack plate, running an inch above the center pad. With over 20 hours on it, Nick really likes a custom 37" Bravo FS with a shortened barrel that he runs for top speed. At just around 400 lbs, the Mirage accelerates incredibly, and runs "effortlessly" from 0 to 110 MPH. Above 110 MPH you have to drive it, like one would expect in a boat this fast. Comfortably over 110 MPH is really flying, and Nick isn't finished.
Nick nailed the setup out of the gate, he reports zero porpoise, and no ill effects at all from the big 3.2 L 300. It's a beautiful rig. For his boating, he wants to test more props to dial in his 3 uses: short speed / drag runs, cruising, and top end. Nick loves the reliability of the newer engines like his 300 XS. This Mirage is a masterpiece, and I hope it stays in his family for a long time. Thanks to Nick for sharing his restoration, you can see the boat flying on Lake Winnebago in Wisconsin.