Chuck Norris vs Don Johnson: Offshore Boat Racing, Celebrities, Big Boats, Big Hair
Chuck Norris is a legend, a hero, an actor, a karate champion and a world champion offshore powerboat racer. There really is not much Chuck Norris can't do. I love his movies too. Lone Wolf McQuade is one of my all time favorites. But, we are here to talk about boats. In the 70s and 80s boat racing was quite a bit different than it is now. Back then, we didn't have poker runs and racing was more of an isolated sport, it has never been the best spectator sport. But, when offshore powerboat racing became a TV sport, where helicopters could capture the footage and when the boats became really fast, it became fairly popular. One thing that has never changed, at least in big offshore, is you need money to race. Racing was reserved for boat builders with sponsors, wealthy entrepreneurs and for a time, Hollywood celebrities. Chuck Norris was a big star at the time and some of his biggest races were against other celebrities like Don Johnson and Kurt Russell. All three are also known to have incredible mullets back then. There were others but these guys were big stars and were super competitive. Don Johnson was the 1988 world offshore champion, so he wasn't just some poser with great hair and a fake tan; the tan was actually real.
Both Don and Chuck won and raced in the Superboat class. One special race in particular had Chuck running against Don and Kurt, that race was the New York Grand Prix in 1990. The Hudson was not a popular race location at the time but this was a noteworthy race, with a dramatic finish. Don Johnson was well ahead of everyone when just over halfway through the 7 lap race, he and co-pilot Kurt Russell had a drive issue and could not continue. This opened the door for Chuck Norris and another racer named Charles Marks to push to the front; the fastest boat was out. With just a few laps to go, Norris and Marks battled for position. In the final lap, Marks had a technical issue and stalled out, he had to limp from about 100 yards from the finish but just before that, Chuck Norris blew an engine. Norris ended up being able to overtake Marks with just one engine and literally ran out of gas moments after picking up the checkered flag. It was an incredible finish.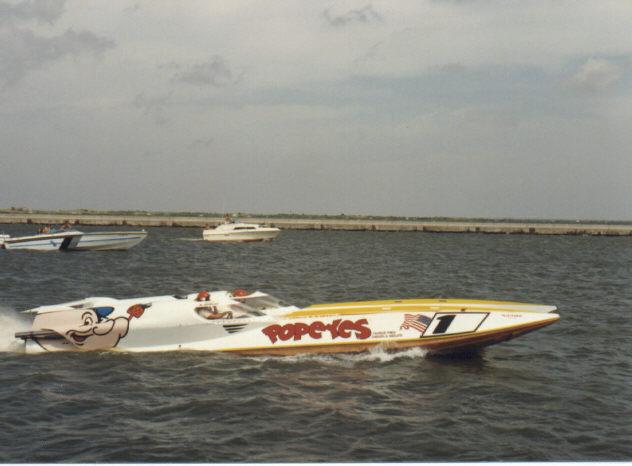 Chuck Norris' Popeyes 50 foot, Superboat class raceboat.
This marks a time in offshore racing that was something of a golden age. Celebrities, big personalities, TV coverage and boats were getting really fast. Back then, we were starting to see wild designs and serious engines but most notably it was the surface drives made famous by Howard Arneson that changed racing in the 80s.
Chuck Norris is most noted for being a world Karate champion and actor. He starred in notable films like Lone Wolf McQuade, Silent Rage and A Force of One. He also had a long running TV show, Walker, Texas Ranger. Norris also ran successful martial arts schools and is an Air Force veteran. In 1989, Chuck also teamed up with Walter Payton and Eddie Morenz to attempt to break a speed record going from Chicago to Detroit in the Great Lakes. They couldn't break the record with the Scarab they were running.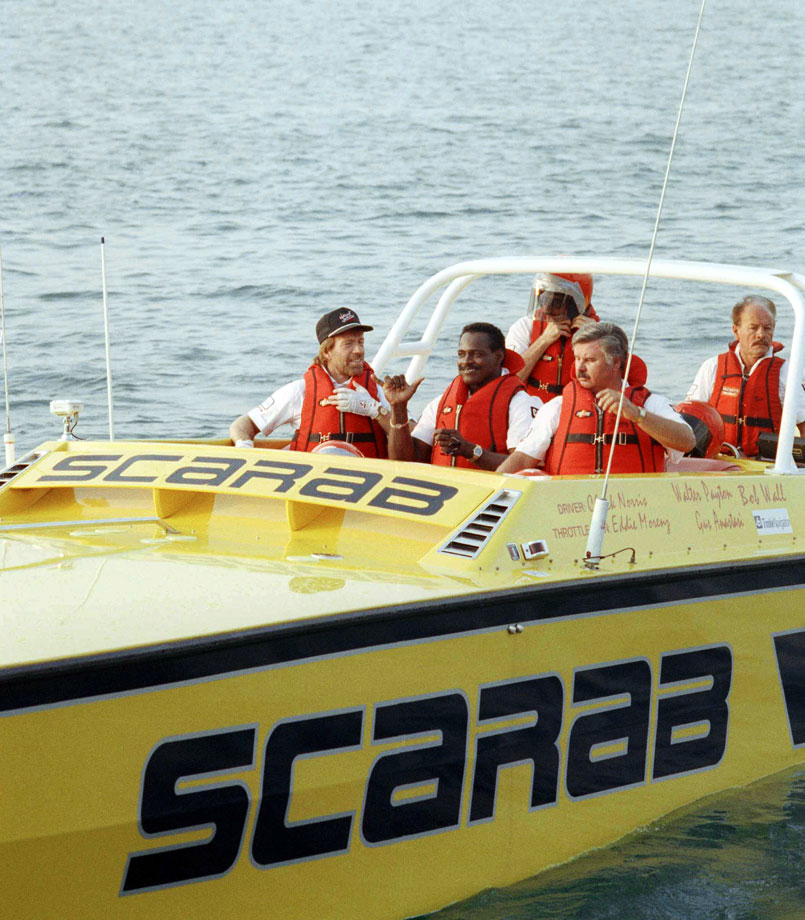 The team, Chuck Norris, Walter Payton and Eddie Morenz failed to break the Chicago to Detroit speed record.
Rumor has it that Don Johnson would race in white Gucci loafers and a linen Armani suit under his vest, although this is not verified. For Don, Miami Vice was incredibly successful, he never really matched that again. Like all of us, he's had some highs and lows since the 80s. Let's keep in mind though, during his lows he was still living in Malibu and married to a Hollywood A list celebrity. It's not like he was having his 5 year old F-150 repossessed by the bank. In the 90s he got back on track with TV show Nash Bridges. Recently his career has re-emerged on the big screen. Don was instrumental in bringing attention to powerboat racing and was a heck of a driver, let's give him credit.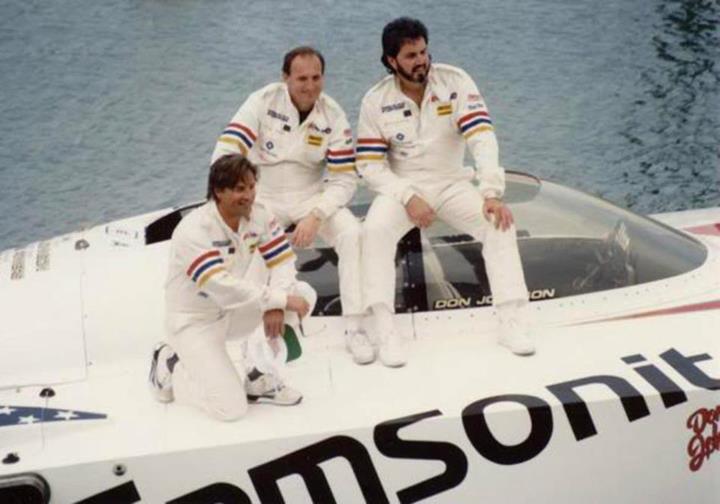 Don Johnson, race boat champion, actor.
Notes and details were referenced from Barbara Lloyd, NY Times, Published: August 19, 1990