Are Four Stroke Outboards Good for Tuning? The Case for the 4 Cylinder
While outboard engines have changed a great deal in the last 10 years, the biggest changes have come in the last three years, including the monumental shift at Mercury Outboards in the spring of 2018. At first, four strokes seemed like the enemy of high performance boaters; they were heavy, lacked the low end torque, and were geared to push houseboats, not light performance hulls. It took about 10 years for the weight and cost to come down, and now we have some decent options with attractive warranties. Don't get me wrong, it's not the glory days, but there are some powerful, incredibly reliable engines on the market. But where do the new four strokes leave those looking to tweak their setup? In a good place in my opinion. Here's why.
When direct injection technology took over the two stroke market, it created a challenge for modifying those engines, compared to the old EFI engines. But, the advantage four strokes have is that they are fairly simple to tune. If you can get more air in, more air out, and have the ECU dial in the performance, you have the ability to really change an outboard. Head work can get expensive, same with exhaust and intake; because nobody is making parts en masse. But, the results can be promising.
Companies like Simon Performance Technology, Hydro Tec Marine, and a couple others are making products that address many performance needs from ECU programming, solid mounts and even beefed up propshafts; in the case of Yamaha outboards. To me, the best engines to tune for light boats would be the mid range 4 cylinder outboards like the 3.0 Mercury four stroke, and the 2.8 Yamaha Vmax SHO (150-175). Those engines are a lighter than the V6s, they are reliable platforms, and enough torque to get most sub 22' boats moving really well. They can make 200+ HP fairly easily as well. On top of that, they are quite a bit less expensive.
The new V6 Mercury is also intriguing because of its ability to make serious power. It is really disappointing the Mercury Racing didn't breathe on that engine. A 225R would be a huge seller with the usual Mercury Racing ingredients; optional gearcases, solid mounts, and tuned to rev a little higher, squeezing the last few horsepower out of it.
Honda is mostly invisible in the outboard world, making sturdy, dependable outboards for the pontoon and small fishing boat crowd. But, one of their most popular models, the BF 150, is based on their stout K24 engine, which on the street can make crazy power. Aftermarket companies make a whole host of parts for the automotive Honda K24. The leading aftermarket Honda cylinder head and race engine builder, 4 Piston Racing, can make 300 naturally aspirated horsepower quite easily with the compact engine. 500 HP is possible with more extreme modifications, which is remarkable, and shows the extreme potential of this engine.
I believe there is a market for a high revving engine, with the weight down to about 450 to 465 Lbs, with proper gears, solid mounts, and a performance gearcase. This would be a very sought after package and could be accomplished with the 4 cylinders on the market from Mercury, Yamaha, and potentially the Honda as well.
Gears are very misunderstood. Most new outboards are geared to push houseboats and freighters. Low gears don't work on efficient hulls, they force you to use high pitch props, and slow down the prop shaft speed, which is bad for efficiency.
With boats, power to weight is a major factor. To get an idea of the power to weight ratio, a new four stroke V6 175 ProXS has 0.37 HP / Lb, and the 150 ProXS, which makes 163 actual HP; is about 0.35 HP / Lb. Most engines are probably making more than there advertised HP, so those are guesstimates. Given most sub 22' boats don't handle well with too much weight on the back, I would rather have the more svelte engine, even if it sacrificed a little bit of power and top speed.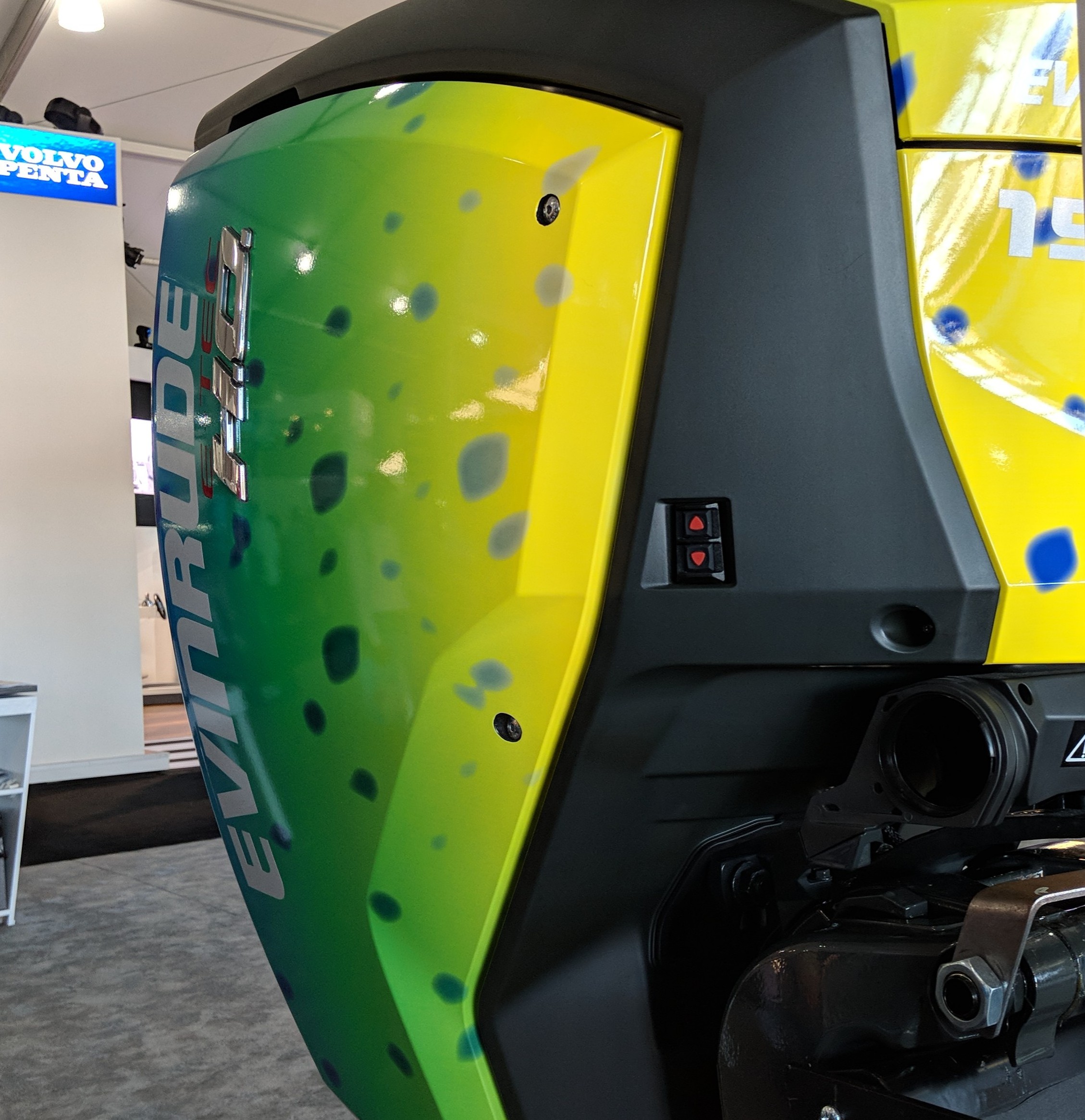 Evinrude missed the mark a bit with their 2.7L 150-200 platform. In 200 HP form, it has decent power to weight, but is 495 Lbs. Not my favorite color here.
There are a certain number of boat manufacturers interested in lighter performance engines, and I think tuned 4 cylinder four strokes can fit the bill. The repower market for these types of engines would be significant. Some engine manufacturers attribute as much as 20% of sales to the repower market, the 150 to 225 HP range is one of the largest segments of the repower market.
Is there room for an aftermarket company to offer turnkey 200+ HP engines based on popular 4 cylinder models? Would it make sense to offer different kits for the used ones on the market, motor mounts, gearcases, ECU programming, and other hardware? I believe there is a strong market for these types of engines.