Building the Ultimate Sutphen 21 SSX
In our recent article about the "fastest outboards" we had the Sutphen 21 featured and talked about what a great setup it is with a 200 or 250 outboard. Among the other boats on the list, it was one of the few that can be had in a sterndrive or an outboard. When you look at the boat, it has a great blend of traditional design and modern performance and suits the sterndrive look perfectly. Just a touch of the classic edgy look, with the low slung lines of a modern sport boat. After talking to Rich Sutphen Jr., he told me about a unique build of the 21 SSX they had just finished. We wanted to feature the build of the custom 21 and see what kind of performance Sutphen is seeing with big power.
The Sutphen 21 SSX featured here is a custom made rocket. This hull is really fast with stock power, with an Ilmor MV8 570, it's breathtaking. All Sutphens are made to order, featuring custom paint in any color you want, this one is a subtle silver with dark blue GT stripes. Special touches include a Mercury Racing XR Sport drive, Zeiger steering, Mercury Racing K-Planes, Livorsi gauges and PPI custom interior. All Sutphens come with indestructible Lonseal flooring. Fit and finish is top notch with recessed hardware and beautiful rigging. This model was introduced about 10 years ago. Sutphen did a total redesign of the previous 20 foot hull, lengthened it, added inner strakes and other tweaks. The deck was a brand new design, with a beautifully sculpted deck and molded in fairing. Additionally, the rear hatch flows with the lines perfectly.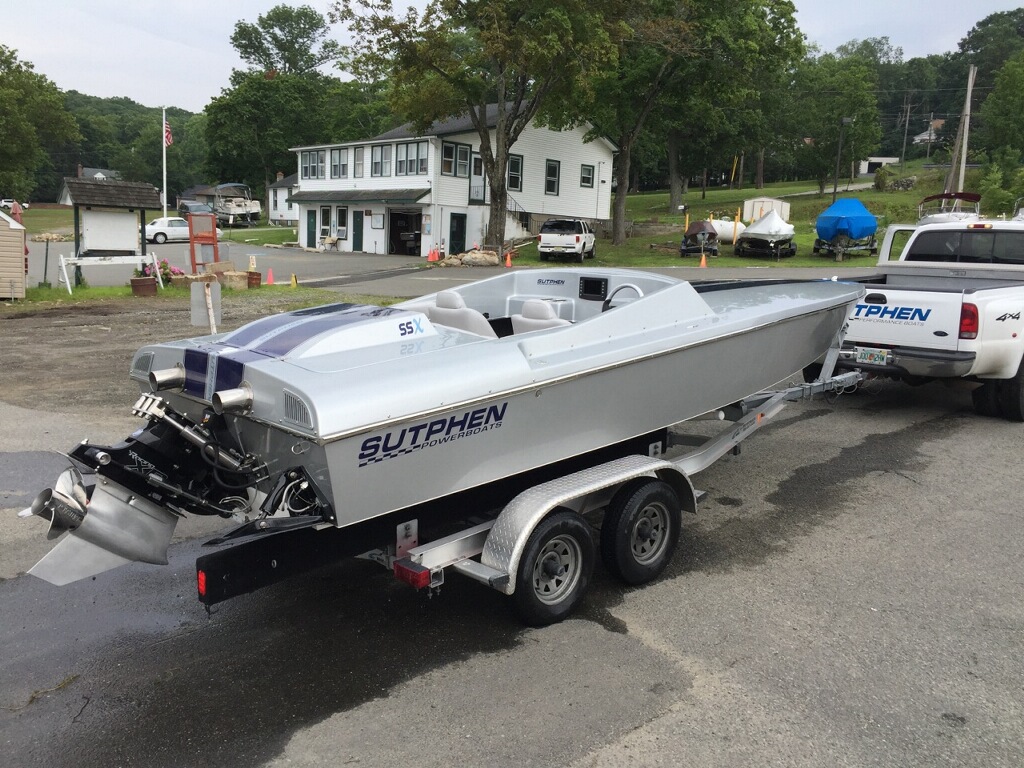 The finish, components and details make this build really standout.
For any 21 foot boat, 570 HP is pushing the limits on power but the Sutphen can put it to use. Rich Sutphen Jr. spends the time on each hull, blueprinting it so it's perfect, which explains the performance and impeccable finish. Initial runs had the boat running 95 MPH, with some additional work, no doubt he will squeeze a few more MPH out of the compact sportboat. The customer didn't mind sacrificing some speed for a slightly heavier layup, dual batteries and the Mercury Racing K-plane trim tabs, suitable for its use in Tampa Bay.
Materials and construction is suited for the rough stuff, Divinycell cored deck for optimal strength to weight, and vinyl ester resin, which offers better mechanical properties, as well as improved strength and fiber adhesion. The hull features a narrow pad and strakes that run full length close to the chine and inner strakes keep the hull tracking well. You sit nice and low in the boat and the fairing is sleek but protects you from the wind. One thing you notice is the finish, Sutphen uses PPG Global, which gives the deep show quality finish that a base-coat / clear-coat system can offer.
Custom PPG Global paint, high end hardware, Divinycell core, Lonseal flooring, built to withstand any environment.
In today's market, there is some stiff competition but only a few that offer the looks and performance of the Sutphen 21. For a compact boat, it's an incredibly versatile hull. Lakes, bays, big water, you can do anything with it. Compared to other sterndrives in this category, it's probably the fastest and If equipped with stock power, it offers incredible value. The hull is well balanced, it doesn't need trim tabs and you can see high 70s with a stock 350 HP.
Contact: sales@sutphenboats.com