The Best Boat Surveyor on the Internet: Construction and Materials
This is just a quick note about a well known boat surveyor, David Pascoe, who has written some great articles over the years about boat design, construction materials and tips on buying boats. David retired many years ago and has not updated his site in a while but his main arguments still hold water, for the most part.
Pascoe was a second generations surveyor, was a certified surveyor in the seventies, studied for two years at the Westlawn School of Yacht Design and raced sailboats for several years, as well as consulted with numerous builders and agencies. Here is a brief rundown of some of his main topics and how they can relate to performance boats and used boats in general. This is paraphrased from Pascoe's publicly available work with my own thoughts thrown in. The titles link to his specific articles and the website link is at the end. These are just some of David's points, very generalized, he has books and articles in more detail.
Pascoe has several articles on buying boats and this one is the most basic overview, although he makes some really good points. Some of the key takeaways are to pay attention to the materials the manufacturer has used in the boat, even if it is new or especially when it is new because the the shiny plastic pieces, painted metal or cast aluminum doesn't always hold up to the elements. This seems like a no-brainer but it is remarkable how easily some shiny pieces and a fancy looking interior can actually be complete junk underneath.
He also talks about boat interiors and the lack of quality in many of them. Many boats, even some new ones, and most older ones use wood as the base of some interior pieces, when left to the elements, these will surely rot in short time. Wood seat bases, wood locker covers; under upholstery or carpet are not going to last. David goes on to talk about budgeting properly, knowing what you are getting into to with maintenance and repairs. He suggests going down a size if you can go up in quality, I agree with him there.
Of course, David recommends a survey on a new or used boat, often a new boat will have a few things the dealer can address before you take possession and ensure you don't run into warranty issues. Not a bad tip.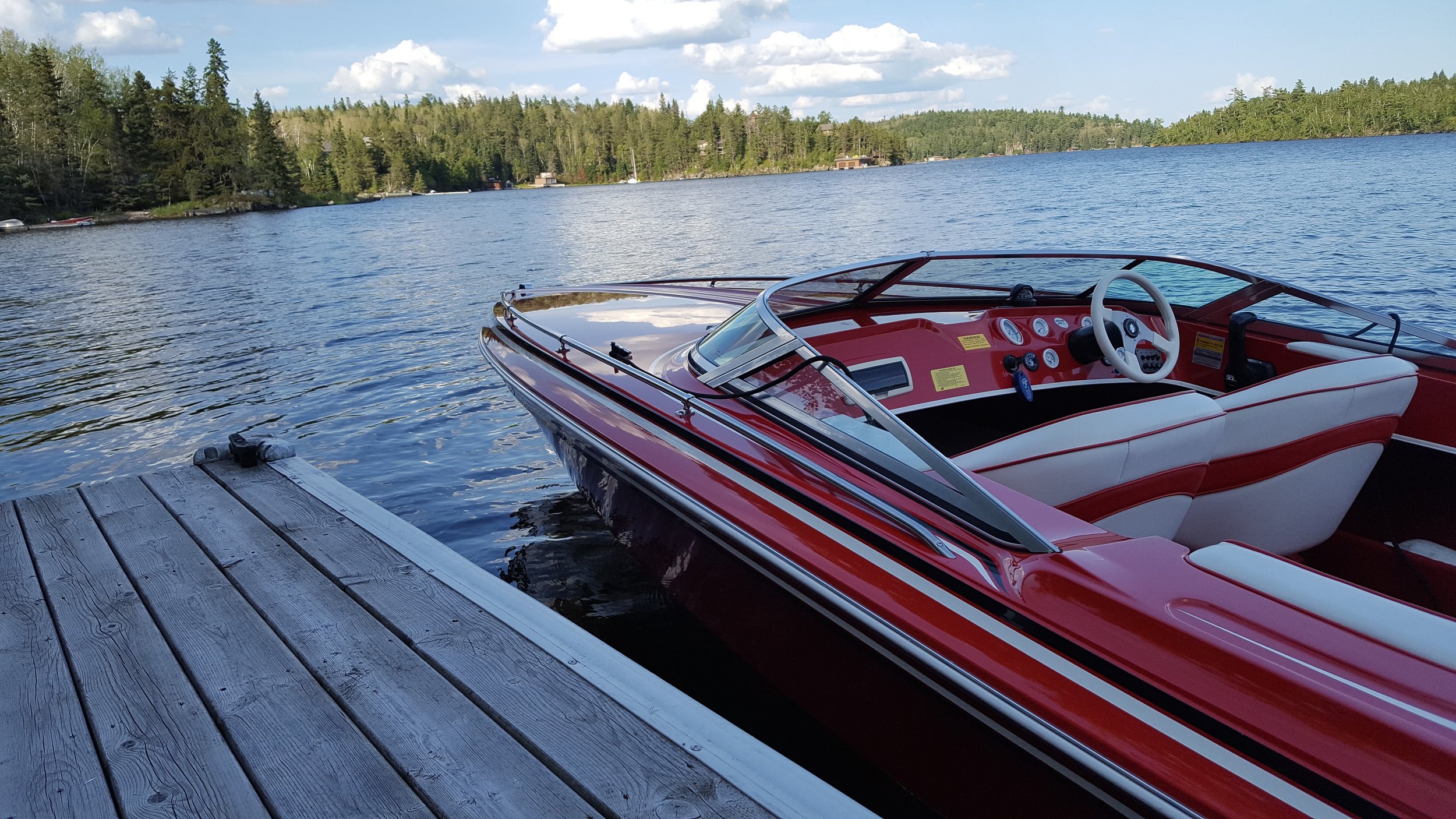 Despite being in near perfect condition on the exterior and never left in the water, this 1997 Checkmate's transom had rotted after about 15 years
And one other point he makes is that low hour boats aren't often an advantage over higher hour ones, the point being that many engines fare better when run as opposed to sitting for prolonged periods. This is especially true with diesels which are not our concern but it's also true for gas engines. Additionally, if a hull has been compromised, the time in storage or sitting does it no favors, so a well maintained high hour boat can often be better than a low hour one.
David Pascoe makes a few comments here and this is over ten years old now but he notes the continued diminished use of wood in cabin and interior areas as a good thing. He also saw more midsize hulls using fully glassed hull to deck joints. Pascoe also mentions more attention being paid to layup, avoiding the blistering that poor layup and cheap general purpose resins can result in. Find out what the manufacturer uses in their layup. Another good tip is take a look at the model you are interested in that has been used and see how it is holding up. This could provide good insight into materials and quality.
This is where David explains the use of new materials, which back then was PVC foam core, compared to balsa core and solid fiberglass. In this case, David is a huge proponent of solid fiberglass and accounts for many manufacturers using new "composites" without the proper testing. Back then (20 to 30 years ago), there were issues with adhesion, getting composite cores to bond in sandwich type construction; where two skins are attached to a lightweight thick core, proved problematic. Early adoption from inexperienced builders was disastrous for many. However, most performance boats were already using balsa core well over 30 years ago and had tremendous results.
David is more of a commercial and a large vessel guy and small performance boats have different needs. In addition to that, as materials improved and builders became better at utilizing new "composites" like rigid closed cell PVC foam, the improvements were made and the benefits were extreme. Bonding was no longer an issue.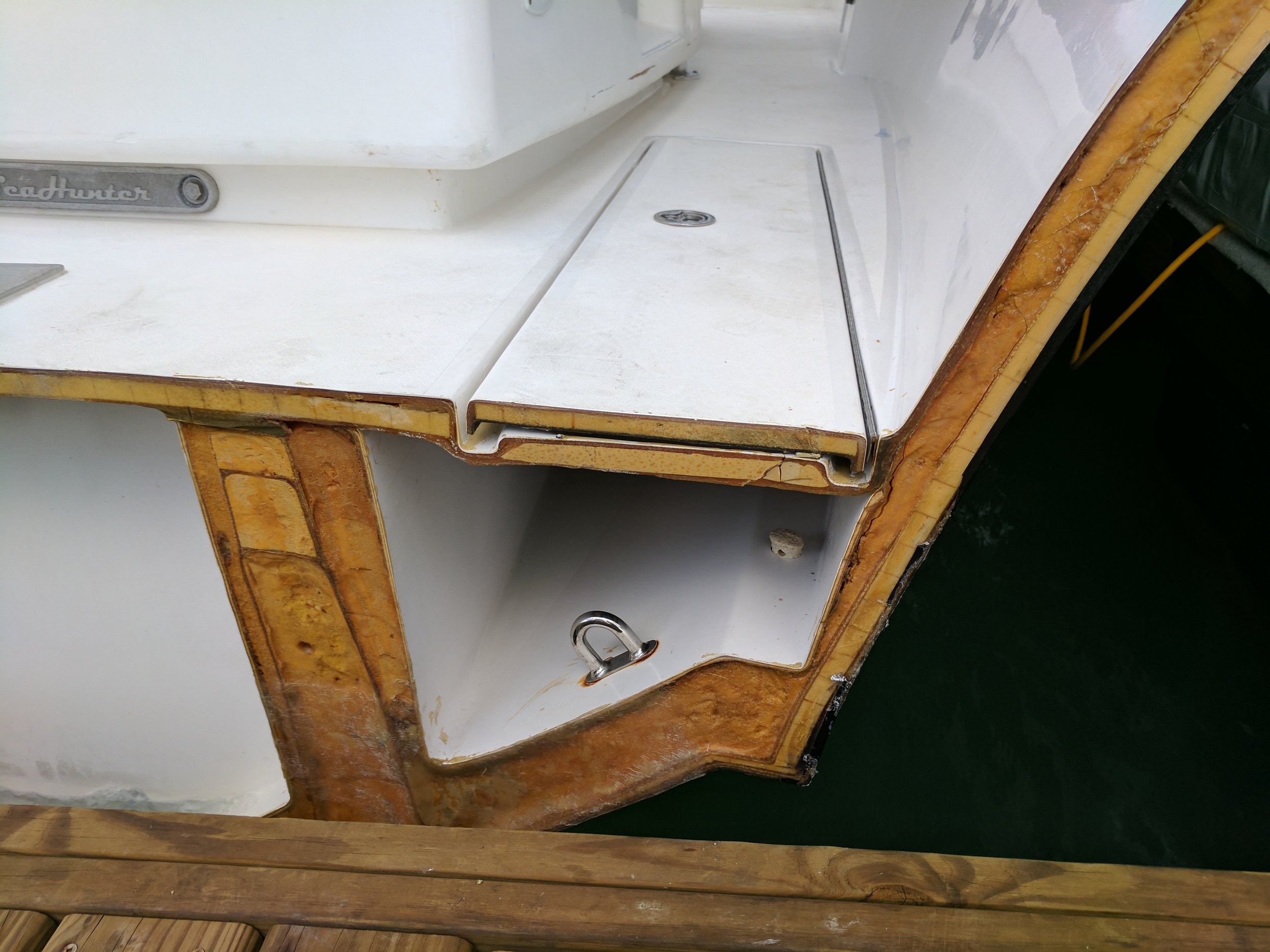 This is sandwich core construction done right, using Gurit, PVC structural foam core. A closed cell PVC foam.
David Pascoe was interested in and aware of these improvements but at the time, largely dismissed composites and any core material for the most part. The inherent dangers of balsa core are there but when utilized correctly, create extremely strong and light panels. When compromised, the hull no longer has integrity as balsa has a high absorption rate, according to Pascoe.
Summary
Originally, this was going to be an article about used boat values but this is a good precursor to that. The reason being is that understanding why your 20+ year old boat has little value has a great deal to do with the fact that no matter how shiny it is, underneath it is probably rotten. Wood in boats will be compromised, it's only a matter of time. And at certain points in the marine industry, particularly in the 80s, 90s and even 2000s, many manufacturers were using wood that had the potential to be easily compromised. That is a general statement that doesn't necessarily condemn wood being used to me, but David Pascoe certainly condemns it. As a note, some top builders still use balsa and or wood sparingly in their builds but it is very rare now for top end builders to use it.
Wood transoms were once the norm but properly built structural foam core is stronger in compression strength and shear strength. Plus, the closed cell structure is adverse to water absorption.