Mod VP Boats are Awesome and You Should Buy One
If there is one class of boats that is a little confusing on the surface, it is the Mod VP class. Boats that are considered "Mod VP" boats are basically boats of varying hull designs that competed in a class sanctioned by the APBA in 1981. The class was started when it was determined that single engine V bottoms and tunnel hulls with center pods could compete with one another, making one larger more competitive class. Initially it was V production, which referred to V hull "production" engine, but when the class was created to include "modified" engines and different hulls it became Mod VP. People refer to Mod VP as a boat type more often than not. What resulted was some of the most exciting boat designs of the modern era. Boats that today are still designs to be reckoned with in both design and performance.
Some of the most notable builders and designers were Stoker (John's Custom Marine), Baker Boats, Laser, STV, Allison Craft, Eliminator, Hydrostream, Sleekcraft, Lavey Craft and Pacecraft. More mainstream boats like Checkmate, Baja and Glastron Carlson had hulls racing in this class as well. There were others, and the builders seemed to be represented from all over the United States. Often it was framed as the V hulls vs the center pod tunnels, with the center pod tunnels being hard to beat for their overall speed and stability. But early on, some Allison Craft and Hydrostreams were just as fast; it was very competitive. Legendary boats and drivers were born in the Mod VP class.
Although I'm no expert on the history of Mod VP, I'm a huge fan, my brother does own a very nice original STV LTV, and it is one of my favorite boats because of the hull's incredible speed, handling and beautiful design. Everything about it is designed to be efficient, while being very stable at speed. The LTV was actually born from the Laser 380 Ray, which Roark Summerford built for Laser, and was modified to create the "tunnel" version LTV "Laser tunnel vee." Summerford sectioned the hull to make the center pod design, and from their iterations of future STV hulls evolved.
Here is why you should buy one. Most of these Mod VP boats are fast, stable and look better than anything made today. For a lake or river they are perfect, you can pull a skier with one, and cruise efficiently, making for a versatile hot rod. Plus, they are so small and light you can probably tow one with a Mini Cooper. Although any fast boat takes experience to drive properly, the center pod tunnel boats are very stable and are easier to drive than V hulls in most cases. Tunnels don't chinewalk, they run nice and flat, and they can handle a range of power. You don't need a crazy engine to have fun, but they can also handle big power and fly.
Your best bet is finding a clean used one. If you want to go new, you can look at Lavey Craft potentially, or Eliminator, but most are long gone from any kind of production. My favorite tunnels would be the LTV, the Stoker SST, and the Baker RST. For V hulls, the Allison XR 2001 and the Laser 380 Ray.
Unfortunately, most of these are pretty old now. If you find one though, don't be afraid to restore it. In fact don't be afraid to use your kids college tuition fund to pay for the restoration as you will probably enjoy the boat more than seeing your son or daughter go to college, where they will chug beer through funnels until they pass out, and experiment with drugs; all while being documented on social media. Some of the best investments are selfish ones.
Your engine choices are more limited now, but back in the eighties, there was a plethora of great engines from OMC and Mercury. If you see old pictures, many ran tuned 2.6L OMC engines, and Mercury Racing offered a 2.4L Mod VP engine for this class as well. Modified lower units were a necessity, partly for the challenge of running the engine high while turning in rough conditions. People like Al Stoker were well known for their ability to tune their engines, in his case OMC, to perform really well. The idea of having modified engines, with rules, and so many different designs was great for innovation. Manufacturers and aftermarket companies really pushed things, and consumers usually benefit when that happens.
Mercury made a Mod VP model of their 2.4. This is the good old days. Just look at that piece of art.
Because of my age, I might be biased toward this era. Growing up near lakes and rivers, I really loved some of the boats that came out of the Mod VP class, particularly the California built boats, and the STVs. When I saw a Baker back in the day, or an Eliminator, they were rare enough that I would just marvel at them. If you can find a "Mod VP" type boat, or you are considering a modern center pod tunnel type boat, I highly recommend them. A restored one with a vintage OMC or Mercury Racing engine would be great, or even a modern DFI two stroke would be cool, some of these boats are timeless.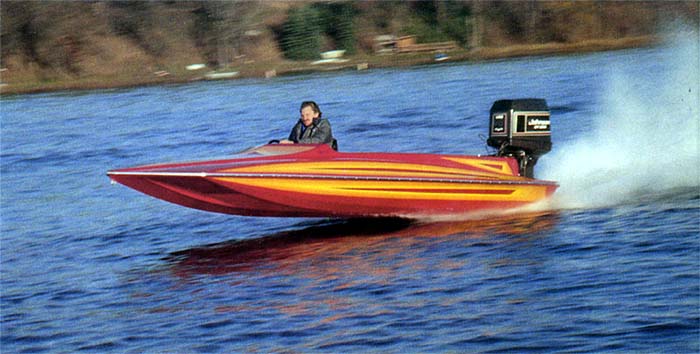 Boating is fun, just look how much fun this Hydrostream HST owner is having.