Bargain Hunter Boats: Compact Vintage and Classic Hulls
If there is one thing that sets Wave to Wave apart from many other boat publications, it is that we really relate to the everyday performance boater. Sure, we enjoy a custom built Skater, or the newest creation from DCB as much as the next person, but, at the heart of it; most of us are lucky to have a boat at all. In fact, one of my favorite things about boats is, you don't have to be a millionaire to have one. You can be riding in a $500 Craigslist beater, or $500,000 MTI, and once you're on the water, you can get the same amazing feeling only a boat provides.
With that in mind, we have received many emails lately about opinions on a first boat, and although everyone has different needs, this article aims to point to a few that stand out to me from a value perspective, and with different budgets in mind. They are under 22' feet, look great, and tend to be priced really well, or hold their value. We tried to cover some ground here by having ones that are distinctly different, some more family oriented, and others more performance focused, but they are all pretty timeless to me. And, we included a few boats from mainstream builders, not known for high performance boats, because they tend to be easy find no matter what part of the country you live in, and are priced right.
Keep in mind, this is not an exhaustive list, there so many boats that we could've included, but couldn't to keep the list contained. By all means, let me know your favorite.
Sea Ray 22' Pachanga
Let's start with a surprising one. The Sea Ray 22' Pachanga. Before you sit down and craft me a finely written piece of hate email, hear me out. Sea Ray at one time, not now, made some decent boats. The nineties were probably getting towards the end of that era. For a time, Sea Ray made a line called Pachanga, and it was a 22', a 27' and a 32'. I believe they briefly made a 19' as well, but it wasn't quite as distinct as the others.
The good: Overall, good craftsmanship. This was Sea Ray's top of the line models, and they were quite expensive when new. Also, they were bespoke designs, not decal packages on existing models. For a 22', the Pachanga was narrow, had a well laid out cockpit, a nice little cuddy cabin and graphics that weren't too loud. The sit down seats were bolstered nicely, and the dash layout was really nice. I believe they were using early composite materials, and the 22' Pachanga had a decent hull design. Available with a 350 Magnum or available big blocks, like the 454 Magnum, and they were reasonably fast for a family hauler. Expect to be in the mid to high sixties with the big block. They are known to handle really well, and are great in a little lake chop.
Beautiful interiors on these. Cozy but smart. Current Sea Ray interiors are a disgrace to common sense.
Someone close to me, just bought a 1989 model, white with blue, low hours, and in mint condition for $5,000. Without any BS, seven beers deep boat talk, this thing is nicer than anything Sea Ray makes right now. If you put this old Pachanga in a head to head with a new Sea Ray 230, it would destroy it in every category, from performance to design. Plus, it just looks way cooler. Another thing, Sea Ray made quite a few of these, so you can find them regularly. And, they have a bit of a cult following, so sharing parts, tips, and making friends should be easy to do with a 22' Pachanga. Owners absolutely love them.
Glastron CVX 16
This old Glastron is a favorite of mine. Interestingly, it is not particularly great at any one thing, it just does everything pretty well. Compact at 16'8'' overall, and with a simple bucket and bench interior, you can put the family in it, tube, ski and head up the lake without burning much gas. The hull is a simple semi shallow V that doesn't have a pad or anything, but it rides nice up to a certain speed.
Originally these were rated for a 125 HP, depending on the year. You often see them with more. We had a neighbor with a nice one that he re-powered with a 2.5 Mercury 200, and it flew; I wouldn't recommend that. But, the best part is you can run a 90 to 115 HP engine and its perfect. Plus, they are economical to run, and cost effective to re-power with a smaller engine. Expect to be around 55 MPH with a 115 HP. You really don't want to try and set speed records with this hull, just make sure it is straight and true, and the transom and floor are solid.
A really practical small boat. Great interior, and a good all around hull, plus it has iconic vintage Glastron style.
Because it was such a great looking design and was so popular, it was copied many times over. They were made for a long time too, so you can find them in varying conditions. In the water, they look amazing still. Boats are funny, because I don't think you can buy a new 16' or 17' outboard from a mainstream builder that could hold a candle to a CVX 16, in looks or performance. They have simple sharp lines, and a really cool black wind deflector. The Glastron CVX 16 is the epitome of vintage cool. Another benefit, the vintage Glastron community is alive and well, so you can connect with other owners and there are quite a few meetups around too.
21 Challenger
When it comes to copied hulls, this one is one of the most replicated, and for good reason. The George Linder designed hull was a marvel of design, coinciding with the launch of the bigger V6 outboards of the late 70's, it featured a very well balanced 22 degree hull, with a narrow pad and was capable of crushing waves as well as getting up on the pad and really flying, especially for back in the day. Breaking 70 MPH back then was a pretty good feat in a small boat.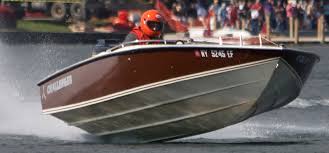 A beautiful Challenger running on the pad, it was a game changing design.
Splashing hulls is a sad reality in boat building, and it was prolific around the time of the 21 Challenger. I suppose it is flattering in a way, but I believe the only other boats from the original molds are the Shadow, and the Superboat; countless others are copies or iterations of the iconic design. I won't list them all, because it's too long.
The low slung boat was so ahead of it's time, to this day, it is one of the nicest looking performance boats in this size range. Different versions, and restored ones with modern power are really fast, often powered with anything from a 200 HP to a 300 HP, and seeing beyond 90 MPH with the latter. Born and popularized in the Long Island, NY region, known for its rough water, owners swear by them, and are often owners for life.
Although an original 21' Challenger is quite rare, you do see the Shadows, and more often the Superboats come up for sale. Same thing applies for all boats in this age range, inspect carefully. But, if you find a nice one, or are inclined to restore one, you will have a beloved, and cherished classic performance boat that is truly timeless.
Hallett 210
When I think of great west coast boat companies, Hallett was always a standout. My personal favorite Hallett is the 210. Hallett made other 20 and 21' foot models over the years, but the 210 is one of the sharpest looking small sport boats ever made. The closed bow version is my favorite. A great way to get in the performance boat game, with a boat you can easily tow, and store, with enough room for the family.
Notice all the best boats use 2 buckets and a bench, simple.
The Hallett 210 won't be the fastest here, but because it's a little heavier, it can handle big power and move pretty good. You'll get amazing craftsmanship, attention to detail, and gelcoat work that is renowned. With straight lines, and a sharp black windscreen, the small Hallett is a true modern classic in every way. You will want to keep it forever, and you probably should. They seem to be hard to find on the used market, but sometimes you'll see a bunch come up.
Baja 220 Sport
What would a list of bargain performance boats be without a Baja. In fact, you could just say every Baja of any size in the nineties is a low cost way to get into boats, but some models are much better than others. The standout for me is the 220 Sport, and it's little brother the 186, from the early nineties. One thing you can say about Baja over the years is they were prolific. They have made so many different models, it's hard to keep track. The quality has always been a point of contention, but from a value perspective, they aren't bad. You do see many on the water still, so that says something; they aren't all horrible.
Great looks. Baja designers were always ahead of the curve.
Not every boat is going to be on the cutting edge of materials and craftsmanship, nor does it have to be to do its job. I have always been a fan of their styling, just the pure looks of many of their boats are fantastic. Some of my favorite models happen to be from the nineties, and the Sport series of this era has some truly great looking boats. Even new, they were well priced, so now you can get into one for really cheap, and if you're lucky, find that well taken care of one that only needs a little TLC, however, that will be hard to do. Many are driven hard and put away wet.
Hydrostream Viking / V-King
The iconic brand created by Howard Pipkorn, is impossible not to mention in a summary like this. Pipkorn made so many models from mini hulls like the VooDoo, to the renowned Vector and V-King. Hydrostream also made some modified tunnels in various models. All Hydrostreams have a very unique style, and were way ahead of their time. I personally love how in early models the wrapped windshields were integrated into the curved deck, and the way the bows were concave. Everything was different, and built for speed. Many of the iconic designs were actually from Ron Baker, when he worked at Hydrostream in the early days.
Three of my favorite Stream models are the Vision, the V-King and the Vector. If it were me, I'd be looking at Viking / V-Kings, and if you're looking for something really small, that doesn't need much power, the Vision is really cool, basically a shortened V-King. The V-King was available with the YT hull as well, which you might prefer if you're looking for a center pod tunnel design.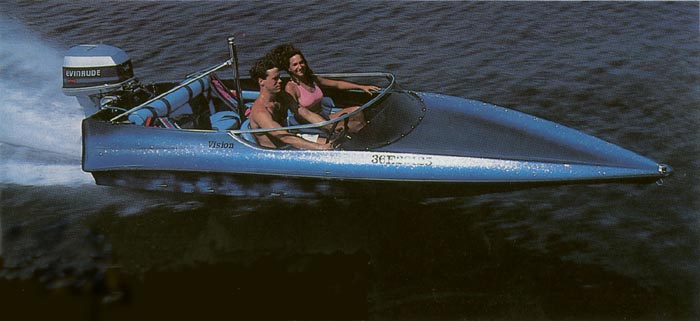 Small, and fun. Good things come in small packages. No big engines necessary.
I know the Hydrostream community is passionate and they love pushing the limits with their boats. But one thing I really like is efficiency, and one overlooked aspect many of the Hydrostreams is they don't need huge power, I know they can run big power, but for many people, they are plenty fast and are very efficient with modest power.
Safety is a big thing when you're getting into boats too. For a Vision, which is a very cool looking retro boat, I really would advise running a lighter 90 to 115 HP engine. Once you get to know it, you may want more, although to me overall performance might be sacrificed in some cases. The V-King was made to handle V6s, and it does well with them. They can run nicely with a 150 and up, but again, if you don't have experience, I wouldn't start with a 225+ HP engine, a 150 - 200 will run great.
DCB (Dave's Custom Boats) Mach 22
This seems like a weird one to put in here. We do lean to the east coast here at Wave to Wave, but I have always admired the custom California boat scene. I still remember reading about the DCB Mach 22' in Powerboat Magazine way back in 1998. Tested with twin 2.5 Mercury Racing drag 300s, it pulled an insane 122 MPH. More than the big number, the boat looked amazing, super low and wide, with the custom touches you'd expect in a high end custom builder, it was a dream boat. Now, you can find them for somewhat reasonable prices, definitely a modern classic.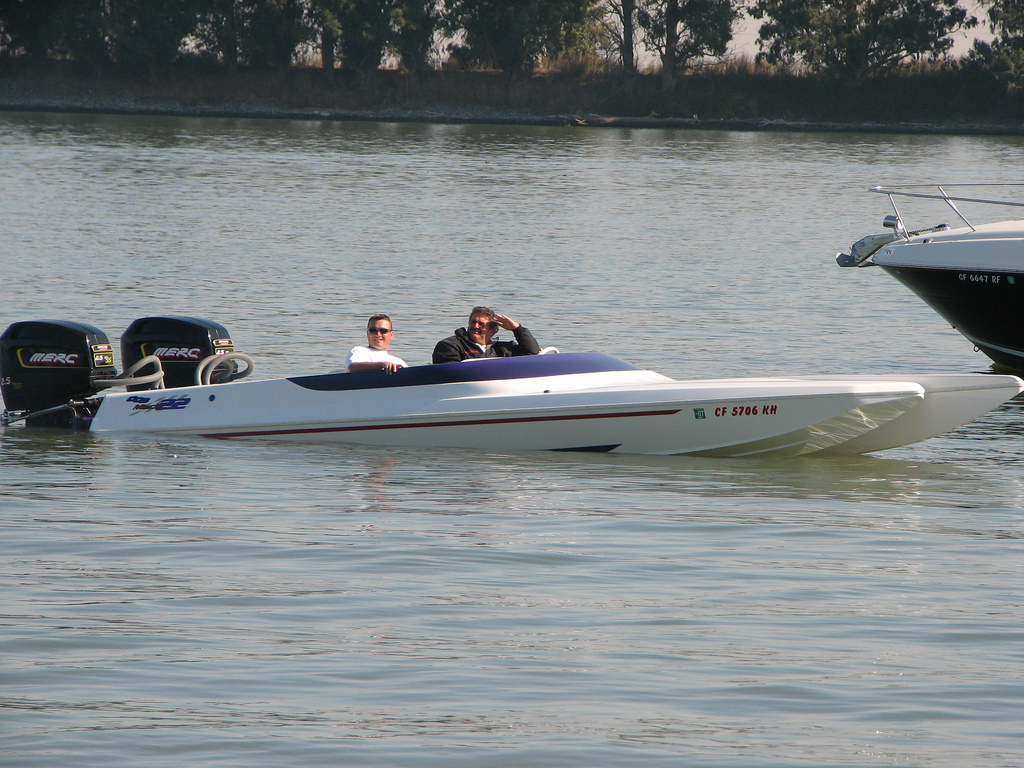 Many had twins, but new 300 or 400 HP singles would work really well.
They seem to never stray too far from the California and Arizona region, but if you want to do a road trip and bring one back, or you live out west, then these are amazing boats you should consider. With a single 300 ProMax of the time, speeds of close to 90 were seen. I believe this hull is actually better suited to the new heavier Mercury Racing 300R so repowering would be perfect for this boat. At 22' overall with a 7'7" beam, it is a great size. The styling is on point, and looks more modern than most small tunnels being made today. Not the fastest tunnel out there, but this is one of my favorites.
Donzi Minx
One of our earliest articles was a piece about the Donzi Classics, and how revising the hull would improve the boat's performance. The old hull design has some major shortcomings but the 16, 18, and 22 are such iconic designs, I argued it would be worth revising them. Needless to say, I had many emails, mostly positive, but also some arrows shot my way. None of the criticism was logical, mostly just name calling. Having said that, the reason I could put all the Donzi Classics on this list is that they are worth restoring, and tend to hold their value quite well. On top of that, with modest power, they are fun to cruise around in. But, I am picking the Minx for a few reasons.
First, the Minx was a really limited run boat, I think it was 1985 to 1988. And, it resembles the Classics in appearance, but is actually quite a bit different when looked at closely. The Minx is 20'8", so it slots in nicely below the 22, yet runs really well with small block power. On top of that, it has a higher freeboard, which makes it look beefier in a good way. Overall, it is quite a bit more substantial than a 18. With the extra 2 feet over the 18, it seems to run a little better overall with similar power.
Of course, the deep 24 degree hull and 7' beam has the advantage of slicing waves, the rounded keel highlights it' nature to lean, and be somewhat unstable in some situations. With experience and utilizing the tabs, it's okay. Pretty fast with the Mercruiser 320 is came with, I would definitely stick with stock power, or repower with a modern small block, which again, keeps it economical and within it's optimum speed range.
Personally, I love the look of all the Classics, but there is something rare and unique about the Minx, and it's a little different. Like many of the boats on this list, there is a following, so you'll have the added benefit of a bunch of new friends to share stories and find parts with. It is hard to find real bargains because most Donzi owners are very proud of their boats, even if there is a flower bed growing in the back seat, so you'll have to hunt for a bargain.
Checkmate Starflite
Again, it is hard to have a list like this and not have a Checkmate on it. Checkmate has been building affordable performance boats since 1963. If we are going to pick a cool vintage one, they have many, but I would lean toward the 21' Starflite. I've said it before, the 21 Pulsare is the best hull Checkmate makes, but the Starflite is a very cool looking boat. My Dad had a 1991 Starflite, with a really rare Mercury 3.4L 275, which was a real head turner.
Pretty cool design, still looks good. This one with a rare 3.4L 275 Merc built by Cosworth.
With a shallow V, and some interesting steps, and a built in notch, the hull performs decently in calm water. Without a pad though, it doesn't' really fly, but that's okay. With any 200 or 225 it will be great for running around and enjoying the water. The lines are timeless, and it has that signature angled Checkmate windshield, with a really long deck. Build quality was actually quite good in this vintage, any boat this age is going to have to be inspected closely and most likely need some attention.
Pricing is all over the map, but the good news is, from time to time, you see ones that are basically free, like $500. Often faded and possibly a rotten transom, be prepared to do some work, but I would opt for a almost free one, or pay up for a mint one, if that suits you. Another bonus is, if you can restore the original gel, do so. Checkmate all had in the gel colors, and do great gelcoat work, as well as some great color schemes. You see some really cool black ones, or blue and silver ones. They were made in the eighties to early nineties, so there are quite a few out there too. These are vintage cool, and still look great.