Beyond a Shadow: Engineered Back to New
In the fall of 2010, Eric Batson was presented with a unique opportunity to own a 1984 21 Shadow. Eric was an engineer in training at the time and was working at Raybo Marine where he worked on some incredible boat restorations. Raybo Marine is a renowned fiberglass and composite repair shop in Lindenhurst NY. The Shadow is a direct descendent of the 21 Challenger and as many know, that hull is the source or inspiration for many other 21 / 22 foot hulls made to this day. George Linder's design is well known on the East coast from NY to South Florida, the midwest and even Canada.
What Eric did was rebuild the legendary boat in the most tasteful manner. The beautiful blue Imron is sharp yet keeps it "original" looking. Shadows are well built but at over 30 years old the floor, stringers and transom would have to be replaced and the original blue gelcoat was faded. Eric's boat is unique in that many Shadows were full balsa core top to bottom, yet this one had foam core sides and deck, which may have made it a lighter build, either way the core was solid.
Eric did all the work in his parents driveway in a makeshift carport. Keep in mind, Eric was 21 at the time. What stands out is the workmanship, skill and the pride Eric put into the restoration. It is not surprising, he grew up around boats and has a clear affection for the Shadow hull.
Inside the boat, the stringers are all new. The transom is reinforced with substantial knees and gussets attach the transom to the hull sides. Eric added gussets and bulkheads across the beam, strengthening the hull throughout. Overkill? Maybe, but with today's heavy, high powered outboards and the speeds this hull can do, it's smart.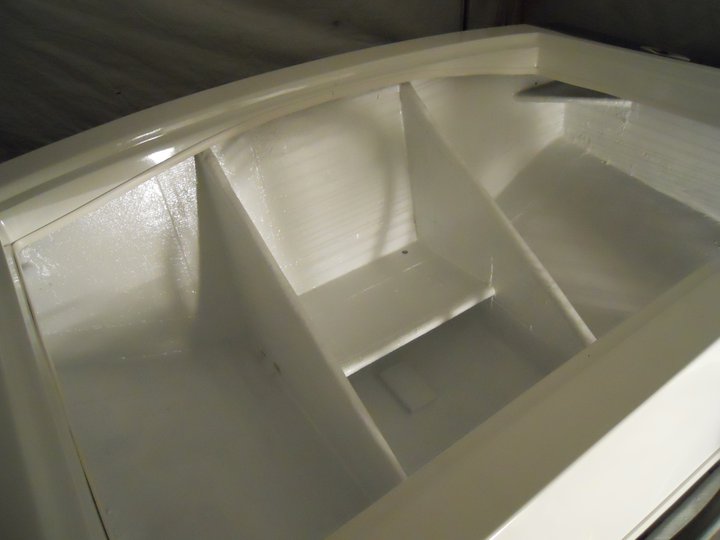 Large knees, gussets and bulkheads make it stronger than new.
Once Eric completed the guts and blueprinted the hull, he took it down to Raybo and had it sprayed with Imron. The paint job is stunning and will be super durable because judging from the pictures and videos Eric showed me, this boat is no trailer queen.
Everything else is basically new. From hardware, fuel tank, gauges and interior, the boat is now stronger and ready for any water you want to run it in. Eric kept the boat for about 5 years then sold it to get into a different boat. I can't wait to see any future projects Eric does because this Shadow is an amazing combination of skill and passion.
 
Submit a Restoration
Do you have a unique restoration project you want to share? Email us at editor@wavetowave.com