King of the Cut: Community Boat Racing at its Best
Everyone loves a good boat race, sanctioned or unsanctioned. To me, community events, or unsanctioned "races" always seem to capture the spirit of boat racing and are a throwback to how boat racing of all kinds started originally, before governing bodies. On October 28, 2018, an epic unsanctioned race took plake in NY state. The King of the Cut. This race has been around for as long as 40 years, depending who you ask, and was resurrected some time ago by some local enthusiasts. For several years, this fun event has maintained a great following, and friendly competitive spirit. What makes it unique? Single engine, SOB style boats. These boats are often seen in the Class 7 OPA races.
Early Sunday morning, rain or shine, a big group made there way to Tanner Park, Long Island NY, and went over the rules. Basically, a run up the Amityville cut in the Great South Bay; a stretch of water that can get really rough and really challenge small single engine boats. On this day, according to the winner, Nick Imprescia, "there was a decent size chop." Another great thing about this race, is the community aspect and the fact that along with the old timers, young people are getting involved. Nick is 17 years old, already a pro racer in OPA class 7, so it's awesome to see younger people being so involved. Nick owns the NJI Motorsports 1986 Superboat, and is following in his Father's footsteps, who is a former champion boat racer as well. Amazing job by Nick Imprescia, he has his boat really dialed in.
Another fascinating thing about last Sunday's event, is that Nick beat long time, 3 year reigning champ, Hans Goldmember aka "Superbender." Hans runs a beautiful black Superboat, with orange stripes and a Yamaha 200 HP SHO. Nick also runs a fully restored 1983 Superboat, with a stock 2013 250 HP Evinrude Etec.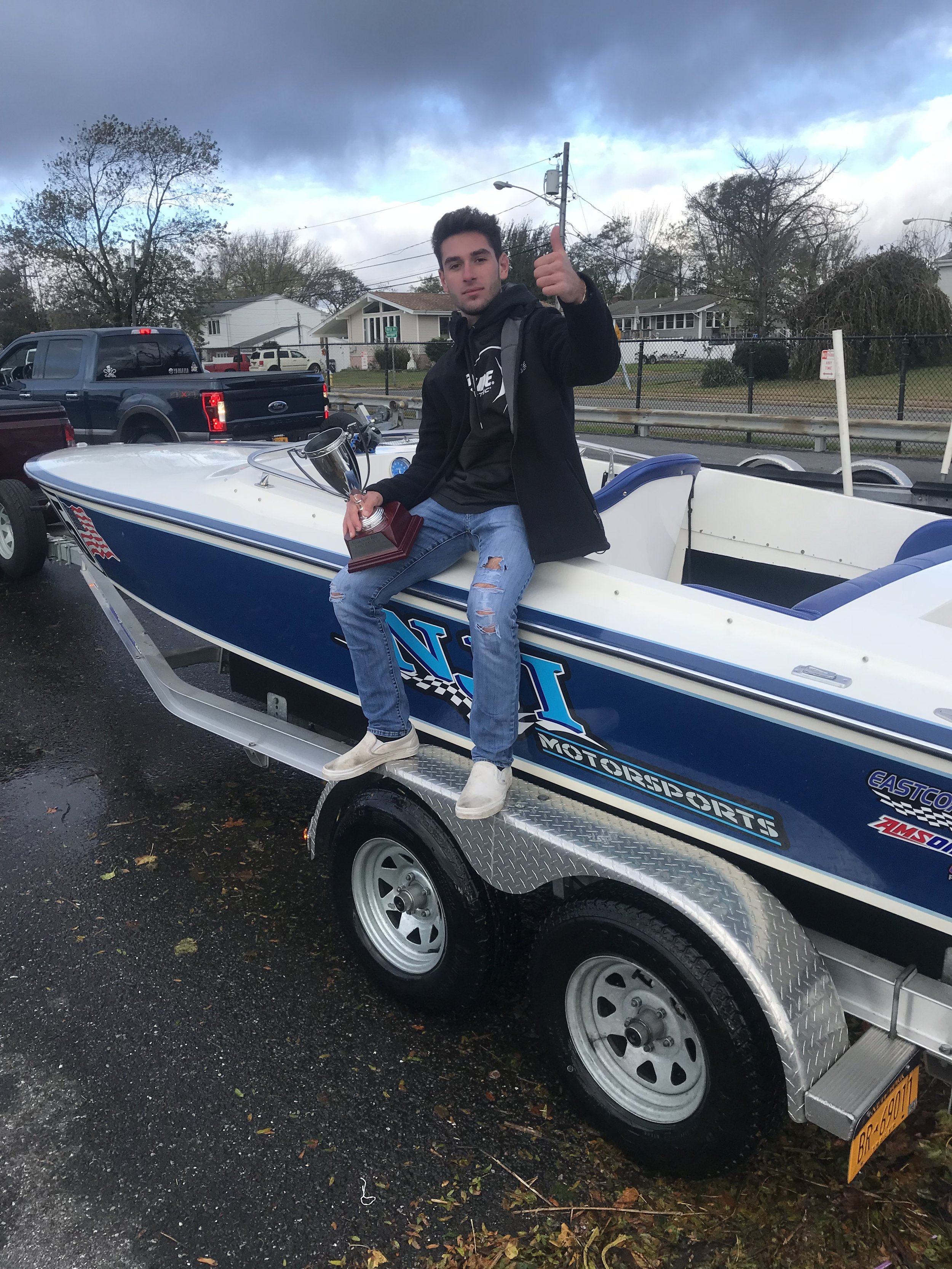 At 17 years old, Nick Imprescia is already making an impact in his racing career. Seen here sitting on his beautiful 21' Superboat (NJI Motorsports)
If you didn't make it to the event to compete or watch, look for it next year. These types of events are great for the industry and the fast boat community. Congratulations again to Nick Imprescia and all of the competitors.