A Classic Hydrostream Vector: A New Lease On Life
Since we started featuring restoration projects, it has amazed me how many young people are interested in classic performance boats, or all performance boats for that matter. We keep hearing how it is a dying pastime, but I don't believe it. Many of the restorations have been submitted by those under 25 years old. That is great news in general. The under 25 age group is our fastest growing audience too, I am really happy about that.
There is no surprise when young people get into fast boats, they gravitate toward the classic builders. And without exception, Hydrostream is a boat company that has captured so much interest over the years. The incredible styling, and pioneering hull designs really set them apart. Howard Pipkorn's boats have that unmistakable look. And one of the things that made them successful was that they were accessible to many people back in the day. They made small models that ran great with modest power, and several models that were ultra fast, and could handle big power. Many a race boat driver had a Hydrostream at some point in their life, often the boat that got them hooked on performance boating.
As often the case, Dalton Turner's Dad got him into boats. Dalton's Dad had a 1980 Hydrostream Viking with a 200 EFI, and once Dalton experienced it from behind the wheel, it was over. At 18 years old, Dalton found a Vector, and paid $750 for the boat and trailer, without power; a nice find. With some help from his Dad, and in the family driveway, the restoration began. Everything needed to be done. With the cap on, he replaced the core, with balsa. Dalton ran stringers up the center, then set in the floor. The transom was done, and they glassed between boards to help seal and strengthen the back of the boat.
Next up was the splashwell delete, and Dalton decided to make it flat, with a couple custom curves. The splashell delete is a nice touch to finish the look of the transom, and effectively make it stronger with no water pooling in it. For a really cool look, Dalton applied new gelcoat, white with red metal flake on top. To cover the original silver streak blue, 3 coats of white were applied, then the red flake. The first 2 coats were waxed gel, then unwaxed for the final. This gives the boat a really custom unique finish. Spraying and prepping gelcoat is a ton of work. After the white gelcoat, the clear with flake went on, and Dalton wet sanded each layer before the next. The result is a perfectly smooth deep flake finish.
Now the boat was ready for rigging. His Dad's 200 EFI ended up being the perfect engine for it, with a fresh Sportmaster with 1.87:1 gears, the Merc 2.5 will really move this classic Hydrostream. Another nice touch is the center steer and custom seats. Some say the Vector can be a handful with a V6, so the center steer helps balance it out at speed, and looks really cool too.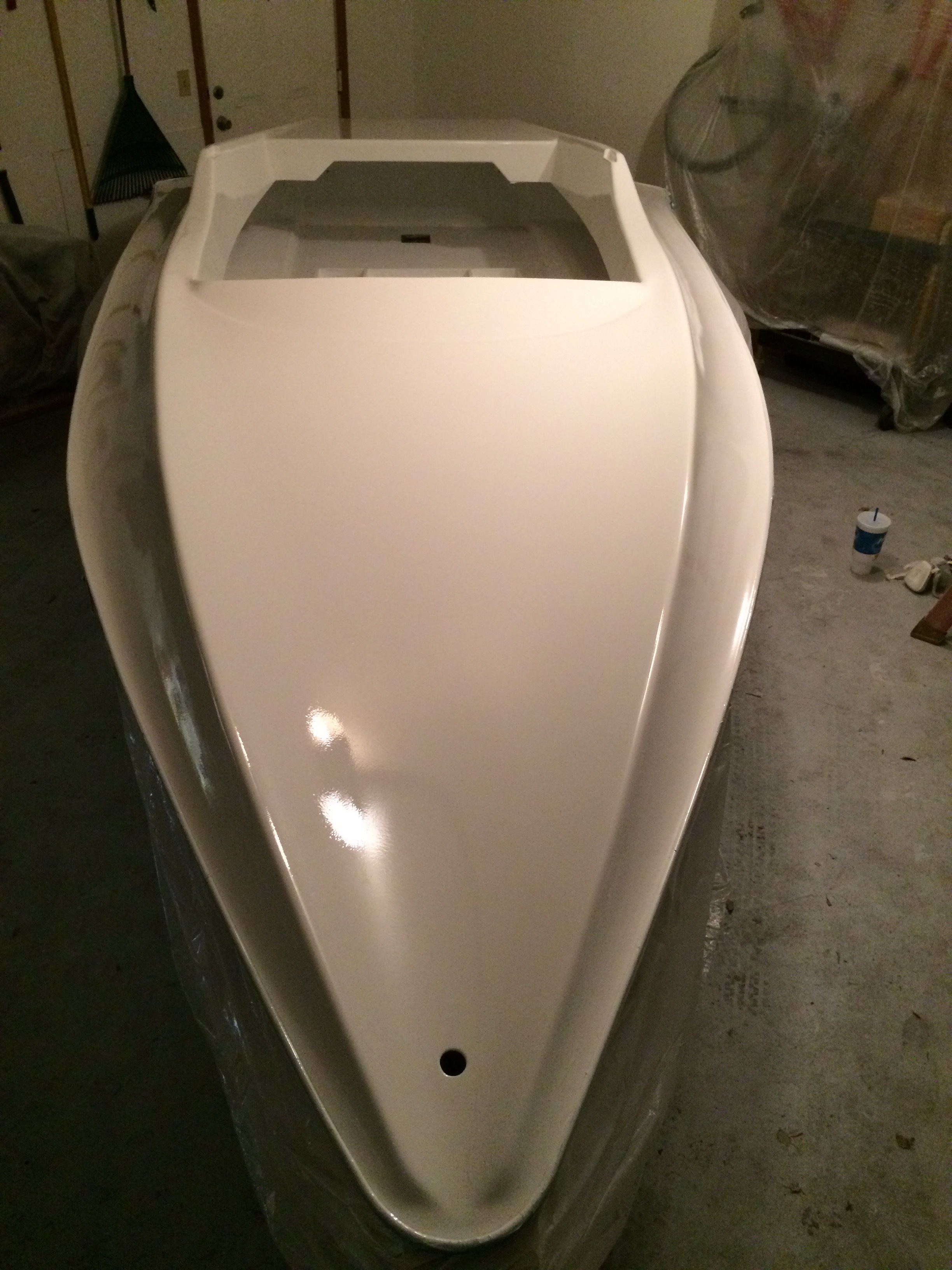 The new white gelcoat over the old metal flake blue. Plenty of time and labor to get this kind of finish.
With a 30" drag 4, Dalton sees 90 MPH on the dot, that's really moving with a stock 200. He plans on some mods for the engine, so you know the fun has just started. You'll find him and his girlfriend cruising the St. John's River in Florida. Dalton did some amazing work here, wish I was this resourceful at 18 years old! He mentioned he owes a lot to his Dad, Scott Turner, for helping with the build and the support. Great job! Awesome boat.
Have a boat restoration you would like featured? Email us at editor@wavetowave.com