Electric Revolution: Backyard Mechanics vs German Engineering
In the automotive world we are firmly in the the electric revolution. Every major automobile manufacturer has multiple electric vehicles in the pipeline, if they don't already have one. Hybrids are ubiquitous and as entry level EVs start getting 200+ miles of range and charge in less than 20 minutes, the sunset for internal combustion engines in small vehicles is in full view. To me, the key is the charging time. The range is adequate above 200 miles but when you can charge in less than 10 minutes or even 5 minutes, it becomes the game changer electric has always promised to be. But what does this mean for boats, performance boats specifically? It means innovation, which is slow in the marine industry but electric outboards are coming. I want to look at what is being done currently, what is possible and how major manufacturers will adapt.
For industrial propulsion like commercial vessels and yachts there has been integration of hybrid systems for a long time. Primarily, series systems where engines charge batteries to power electric motors attached to the drive shaft and parallel hybrids where a more sophisticated systems allows both engine and motor to power the drive shaft with a clutch mechanism, it can be efficient albeit a little complicated. For this article I want to focus on a pure EV approach and how it might penetrate the performance boat world. I believe it will in a few ways, as well as affect the major manufacturers.
Electric Boats
So far, to the best of my knowledge there have been several projects involving full EV setups using direct drive systems. Ski Nautique and the Canadian Electric Boat Company, to name a couple, have used these systems and seen some interesting results. Canadian Electric has gone to market with theirs and Ski Nautique's was more of an experiment several years ago, but I think they have another version now called the 230 E. For outboards, there was an early to market offering from ReGen Nautic USA, using an existing outboard lower, mid and housing; they used a UQM electric motor with approximately 180 HP. ReGen Nautic took the right approach in my opinion but there were a few factors as to why it failed. Cost was a main one but they also used an inefficient setup to showcase it. They partnered with Campion, which is a Canadian boat company and the hull they used was slow and inefficient, which made it challenging to promote the advantages electric might possess in marine use. They would've been further ahead using an ultra efficient hull to maximize speed and range with less power output. I believe the 180 HP outboard was way over $60k, so that's tough to swallow.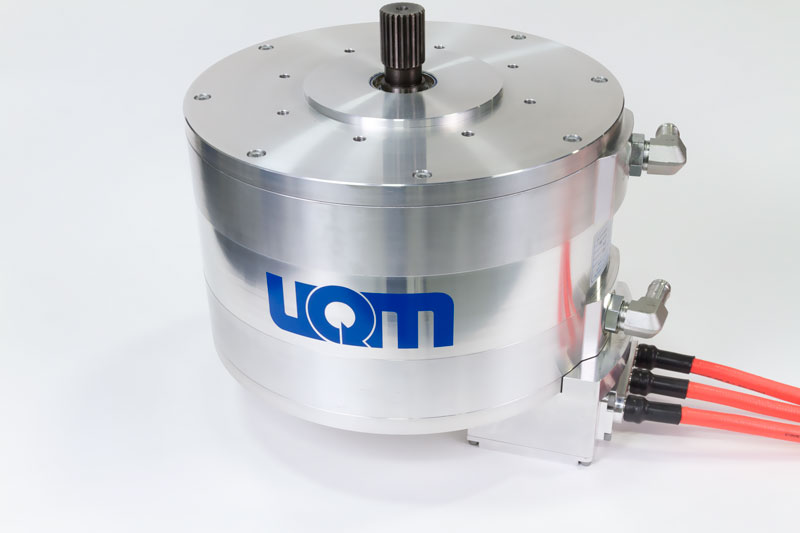 The PowerPhase is a compact, potent electric internal permanent magnet motor for auto and industrial use.
German manufacturer, Torqeedo, is the most serious offering yet. They have a full line of outboards, inboards and hybrid systems for a variety of applications. Torqeedo's outboard lineup is mostly low power with limited range. But, the company has some neat innovations like integrated battery packs on their small motors and a large battery pack for their Deep Blue series (40-80 HP) from the BMW i3. An 80 HP Deep Blue will cost $23,999 USD and the battery pack is separate and starts at $31,999. So that's getting pricey for 80 HP and some of the new gas outboards in that range are awfully efficient. That is a tough sell, which is why for the most part, this is a commercial use venture at this point.
Backyard mechanics rejoice though. In America, there is a garage somewhere being used to conjure up tomorrow's technology. Steve Jobs, Edison, Bell, Musk all started in garages, or at least had used a garage at some point in their life. The point is garages are awesome and it's where magic happens. There is a young guy on YouTube who has done some magic with an outboard on a rigid inflatable and I have to take my hat off to him. He loves EVs and his mission is to be completely solar powered. He took the right approach: use an existing outboard, pull the powerhead, bolt on an electric motor and presto, you have an electric outboard. Electric motors can produce crazy torque and be super compact. The motor in a Tesla Model S is the size of a watermelon and it has so much torque it's stupid. Electric motors can rev to 15,000 RPM effortlessly too. The mistake this courageous guy made was the rigid inflatable boat he used. Not being too critical, he's not a boat guy, it's an incredible first effort. The boat goes 55 MPH, so it's not a failure, it's just a poor hull to use. For some reason people think rigid inflatables are fast, they aren't, they suck. But, this guy deserves praise, it's probably a better setup than the Torqeedo and those guys are German with a big budget, this guy is an American, in his garage doing awesome work. Another backyard mechanic converted a Bayliner 175 to electric, with Tesla battery banks, very successfully. But again, why would you choose the Bayliner? You are losing tons of efficiency with that hull. Either way great effort. Back yard mechanics win again, making Jobs, Edison and Musk proud.
Speaking of German, Mercedes teamed up with Cigarette Racing to produce a one off AMG electric powered 38 Top Gun. This is the opposite of a garage build, this is like offshore drug money meets German engineering (literally). That said, it is pretty impressive. Four 60 kilowatt motors put out over 2,000 HP, pushing it to 99 MPH. You'd think they would just throw one or two of the super models in the boat overboard just to click 100 MPH but I guess that wouldn't be cool.
A schematic of the 38 Cigarette Top Gun AMG. This was not built by a backyard mechanic, it was built by AMG engineers with an unlimited budget.
The moral of the story is if you have a garage, you can change the world. Major manufacturers like Mercury, Yamaha and Evinrude will probably just acquire and or adapt when the batteries become competitive. I'll keep pumping gas into my 2.5 Merc and big block Chevy until the change happens, then I'll see you at the charging station.