Maximo Powerboats: Building on the Tradition
Offshore racing is full of incredible characters and even more incredible stories, on and off the water. When you look at the old school offshore days, Apache Powerboats certainly lived up to all the popular stereotypes of the time and won enough races to earn its status as one of the top builders in racing. In the mid eighties, legendary boat builder and Apache founder, Bob Saccenti, introduced the beautiful 21 Apache Scout.
The Apaches were built like you would expect, a little heavier, race rigged and with the serious offshore enthusiast in mind. Although successful and good to make use of the bigger V6 outboards at the time, the serious guys wanted bigger boats and outboards weren't nearly as popular then as they are now. Apache made quite a few 21 Scouts as well as a 22, with a few different configurations but stopped building them in the nineties.
Flash forward to today and if you can find an original Apache Scout, you would have a great hull and good restoration candidate on your hands. With today's new outboards being super reliable and efficient, the old outboard hulls make a lot of sense now. This is where Phil Vargas saw an opportunity. The original Apache molds were available and with Phil being in Miami, he had some guidance from Bob Saccenti on continuing to build the bullet proof design. There aren't too many other 21 foot boats that can run with this hull in rough water, the list would be really short anyway.
Phil started Maximo Powerboats to fulfill build requests, which are custom to order. Made in Miami and built anyway you want but Phil clearly wants to keep the tradition of a capable ocean hot rod. Composite construction and heavy duty materials allow it to manage any water. Just for good measure, Phil raced his first production hull in the class 7 division of the Offshore Powerboat Association (OPA) National Championship, finishing 3rd. The boat did remarkably well with a stock 200 Optimax for power and equipped like a pleasure boat with full cockpit interior and everything. You can truly take this to the sandbar or just cruise on Saturday, then race on Sunday.
The hull has a narrow pad, deep deadrise and chines that help it track and keep it stable.
When you look at what is on the market these days for a boat like this, there aren't too many that can touch it in the conditions it is designed for. Phil brings a great deal of experience in boating to the table. He retired from the Air Force after 25 years and has experience with composites and carbon fiber from an aviations perspective. Growing up, Phil would boat with his father in City Island, NY. Now, you can find him in the Miami Florida area crushing waves in the 21 Maximo. I can imagine people seeing Phil and Maximo competing in factory class races and feeling the itch to get into the sport in an economical way with one of his boats.
Contact Phil if you would like one custom built: maximo21racing@hotmail.com
Racing can be accessible in boats like this. Phil won 3rd in the OPA National Championship in a 21 Maximo with a stock 200 Mercury Optimax.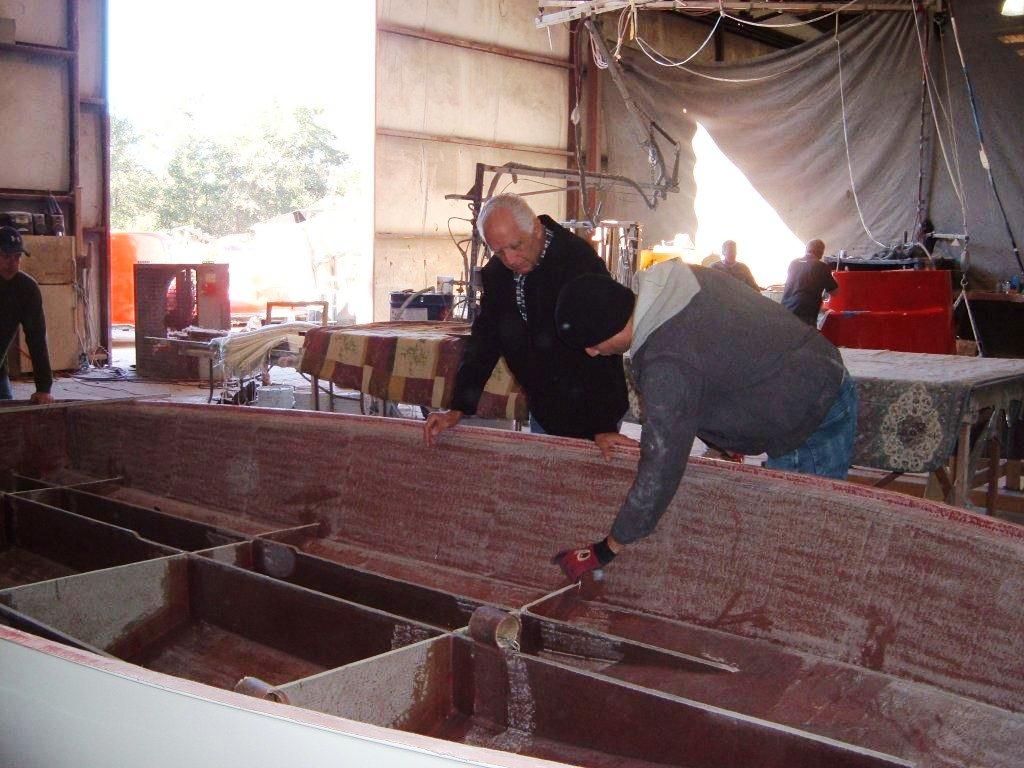 Built beefy, full stringers with bulkheads. Custom layups are available. Phil has contracted with an experienced Miami builder, looked over here by Bob Saccenti.