Fast Boats are Good for Business: The Story of a Boat Building Genius
When it comes to consumer products of all kinds, design is often what differentiates one brand from the next. And when I say design, I mean everything from aesthetics and function, to user interface and even the products image. How it looks matters, how it functions matters and when we look at leading brands, the thing that separates them is that design and innovation are at the forefront. Leading products don't need to advertise in the same manner as the lagards, the product speaks for itself and perpetuates marketing material by the very nature of its form and function.
For the boat industry we are seeing record sales across segments, and some brands can't build enough boats to meet demand, yet some former formidable brands are struggling. Why is that? Simply, it is lack of innovation, and bad design. In the seventies, Chris Craft Boats was struggling, but by hiring a savvy operator, and orchestrating a massive design change, the company rebounded. How they did it, is the same way almost any boat company can rebound from a dark period. The key elements are to go where the market is going, and even better, create new markets.
Richard Genth
The Chris Craft story has many chapters, being such an old brand, but the era we will talk about is Chris Craft Industries of the late seventies and eighties. That is when boat building guru Richard "Dick" Genth was brought in to see if he could turn the company around. Using old business reports, articles from Powerboat and some online sources, we can piece together the circumstances of Genth's magic. Genth was one of the most successful executives in the marine industry already, and the turnaround performance he orchestrated with Chris Craft cemented his reputation as one of the best operators in the business.
What Genth understood was that hiring the right people, and going after a new market, would give him an advantage. The first business step was cutting models that didn't fit his vision and were not selling well. Genth then immediately made plans to add exciting products to the lineup, and with boats, like cars, performance models are the natural step to add excitement. To hasten the process, a deal was made with Excalibur Marine to produce their 31 and 38 foot models. A savvy move because it required no investment in tooling and fabrication, but it had one catch.
Excalibur was a small boat line of well designed hulls that lacked the capital and scale Chris Craft had. According to (chriscraftstingers.com), a fascinating deal was made. Excalibur was paying royalties to boat designer Jean-Claude Simon for each 31 they built, based on a previous deal. Simon, had moved to Miami from France, and had purchased the Cary boat company, and was a known designer. Genth needed to find a solution to the existing royalty agreement with Simon to move ahead with the 31, so he met with Jean-Claude Simon and ended up buying the mold outright, with Simon maintaining design credit for every boat.
Right away, Chris Craft shifted. Instead of a bunch of bland designs with no path forward, Genth instantly gave people a reason to talk about Chris Craft because of the striking new boats. He wasn't done though. What the Excalibur boats accomplished was it allowed Chris Craft to bring the memorable Stinger and Scorpion lines to market, which further helped Chris Craft emerge as a leader in the industry. Christ Craft Scorpions were consumer performance boats, while Stingers were higher end offshore boats. Genth was a former Air Force guy, and also a former offshore powerboat racer with a huge personality. He brought in the right people to invoke change and carry the brand forward.
Obviously happy with the direction of the company, Genth partnered with Dale Murray of Murray Industries, and acquired the company. Sales grew exponentially during the Murray / Genth tenure. Even after Genth left in 1984, the company grew, but ultimately Murray sold half of the company to a wealthy investor from the Middle East, the market had shifted again in the late eighties, and the company struggled under its own weight.
The Stingers proved to be good performers, looked amazing and had incredible marketing prowess, being featured in Miami Vice, and a special edition Stinger 312 Fittipaldi edition appeared in the Hollywood film Tequila Sunrise. For the first season of Miami Vice, Don Johnson's character, Sonny Crockett, ran a Chris Craft Stinger 390. Michael Mann productions had bought five boats, one white and four with blue accents. (source) Genth also had a racing program started with the Stinger 312 and 390, which were descendants of the Simon / Excalibur design.
Crockett and Tubs, heading into the sunset. Not bad marketing material. Still the best TV show ever.
But Chris Craft is just one story that is repeated over and over. Some of the most memorable names in boats, from Wellcraft, Sea Ray, Glastron, Donzi, Baja, Checkmate, Fountain, and many others, were once leaders in some aspect of the business but failed see the market shift. Thankfully, most of them survived or were revived in some way.
Power and Design
One interesting aspect of powerboats is that power tends to dictates design. A perfect example is the Mercury Racing Verado 400 literally creating the sport catamaran market. The demise of lightweight powerful outboards in the same vein, killed many lightweight high performance hulls. You could blame the heavier new technology, or you could innovate and capture the market. Very similar to center consoles, which have experienced huge sales for a while now, because when we had efficient, and turnkey outboards making over 250 HP and 300 HP about 15 years ago, then big center consoles became much more viable.
Sometimes it is shocking when you hear that a big brand is in trouble, like Sea Ray recently, or Wellcraft years ago, the biggest companies with the biggest advantages somehow fail to innovate and create new markets for themselves. Performance boats usually save the day. Performance boats helped push outboards to be what they are today, they helped hull design and material for hulls to be more efficient. This is a critical point, with hundreds of millions spent on engine technology, it is all for not when you are pushing a barge when it comes to efficiency.
Hull design is the most critical aspect of fuel efficiency / mileage. The most efficient boats, are the fastest boats. I always laugh when I see a deck boat loaded with passengers in the bow, plowing through the water like a freighter, with an "efficient" new outboard on the back. One step forward, two steps back.
In the boat industry, we see trends, and trends come and go, but what never changes is the desire for quality and design. Right now we see pontoon boats trending, we saw the wakeboard trend where every manufacturer slapped a tower on their cookie cutter family sterndrive. What's next? who knows, but when the design doesn't have a purpose, it will be almost certainly short lived. In California, which was once a bastion of custom boat builders, we saw many brands ultimately die. Albeit, the awful recession of 2008 was a major factor, but often those serve as the best time to shift and innovate. Companies that thrived adopted new technology, redesigned, and went after new markets.
What Genth seemed to understand, like other leaders do; excitement sells, boring doesn't.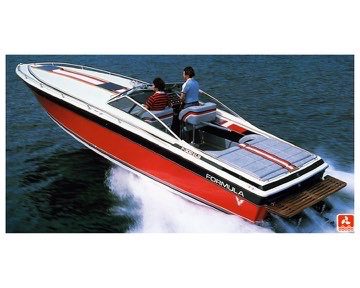 Richard Genth had his hand in the success of Formula / Thunderbird, Donzi, Wellcraft, Chris Craft and Century. Not a bad resume.
Sources:
The New York Times: Business, Saudi Stake in Boat Maker, May 05, 1987. Accessed 2018.
Powerboat Magazine, Performance Trials. 1983
(chriscraftstingers.com)