The Ups and Downs of Jack Plates
When it comes to setting up your boat from scratch, or upgrading an older boat, you would be hard pressed to find a better investment than a quality jack plate. Choosing a jack plate comes down to whether you want a manually adjusted jack plate, or a hydraulic jack plate, and how much setback the plate has, but there is more to it than that. The ability to adjust the height of your engine on the fly is priceless, which is why hydraulic jack plates have become so popular in all types of boats. But, I wouldn't discount the value of a manual jack plate, they can be great in many cases. Here is a look at different jack plate designs, and some of the top jack plates out there.
For an outboard engine to be lifted, there are technically only a couple ways to accomplish that. One way is the engine has to be mounted to a plate, which then has to either slide up and down in a channel of some type, directly pushed by a hydraulic pump. Another way is on hinges, where the bracket is hinged at each mounting point, like a cantilever hinge, or a four-bar mechanism; which is a really efficient way to lift heavy objects.
Most hydraulic jack plates on the market are the sliding type, and utilize a plate in a channel, guided rollers in a track, or tubes; where the plate slides on tubes instead of a channel. The main drawback of some of these designs is that they can flex, especially when the plate is fully extended. Obviously, the tolerances are critical, a roller type with tight tolerances can be really solid. The hinge type brackets can be light, and have minimal flex overall.
With manual jack plates, most are based on the designs they use for hydraulic jack plates. Often, manual jack plates use a large screw mechanism with locks on the guides. Roller type manual jack plates are also very similar to the hydraulic versions.
Here is a look at some popular jack plate designs on the market, and pros and cons of each. This is just a summary, there are many manufacturers of brackets and jack plates.
Allison Boats: Roller Design Jack Plate
This jack plate is custom designed by Darris Allison, and is brand new. Our Allison actually has the fist production version. The key features are that it is extremely strong, light, and has almost zero flex. Darris beefed up the guides, and bushings, as well as reinforced the channels. Overall, the jack plate reduces unneeded material, for weight loss, and adds reinforced areas to ensure overall strength. Darris estimates it is more than 50% stronger than a traditional roller style plate. The only con is it has reduced travel of 3", which is partly because more travel can interfere with a skid planer. Available on Allison boats, and sold separately for any boat.
The Porta Bracket uses a "four bar" type mechanism, where it uses hinges at each corner. A very unique design, it provides different set back lengths, and extreme travel. The way it is levered is very efficient. Porta's overall design is brilliant, you can get custom versions for multiple engines too. Travel is as much as 24", and the engine maintains geometry due to the parallelogram design. An added benefit is that it looks ultra clean, if you want an innovative jack plate, and want it to looks great, it's hard to overlook the Porta Bracket.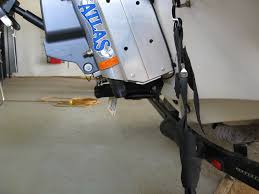 The Atlas jack plate has been around for a long time, using a traditional design with tube style channels it slides on. Available in multiple configurations.
Bob's Machine jack plates are really popular for a few reasons. They have multiple designs for different applications. Plus, you can get a custom coating for a custom look and durability. Other features include internally mounted hydraulics for added protection of the unit and make a sleek 4" setback possible, as well as all in one units where the jack plate has the pump within the unit. The design is a plate in a channel, which is okay, but the main drawback is if it is raised beyond a certain point, it is possible it could flex. It is important to mount it so when you are running it optimally, it's not extended past that point.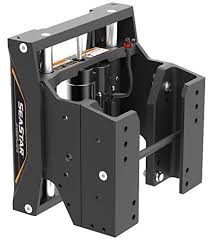 This is a tube channel design, but I really like the framework. The Gen 3 model is very strong and light. Plus, you get many setback options and range. One of the better all around jack plates on the market.
The SeaStar Solutions company offers a 3rd gen, standard and Extreme model of hydraulic plate. Plus, they make a really nice manual bracket as well.
Shaun Torrente Racing: STR X-Act
Shaun Torrente makes a very well designed manually adjusted bracket that is very popular among sport catamarans, and comes in different versions. One advantage of the STR X-Act Slimline is they can be made with a super tight 1.75" of setback, which can help maintain critical center of gravity, but also provides up to 4" inches of travel. Torrente can custom make larger setbacks in his HD line, as well as a 8" Ultralite version for smaller single engine applications. Rumor has it that he is working on a hydraulic one. Expect the same top notch quality, solid billet aluminum, and attention to detail on those.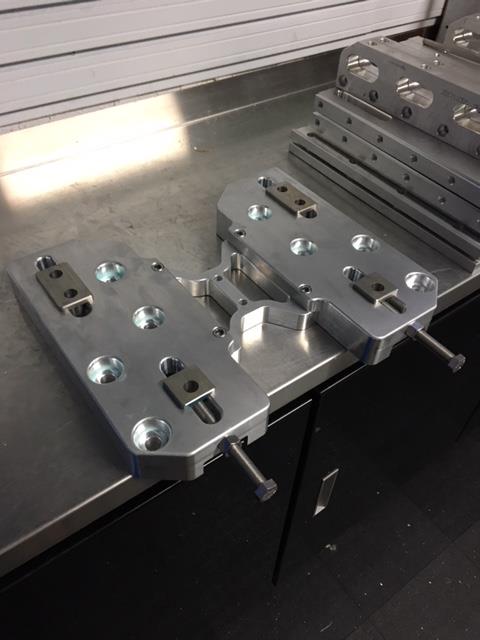 One advantage manual brackets have, is no hydraulic lines, lighter weight, and less moving parts. Adjusting is more difficult, but it's a way cleaner look too.