Allison 15: A Classic Race Hull Reborn
For every restoration we feature there is always an underlying theme, a family project, a classic hull, or even a first time restoration. In this case, you could say all the boxes were checked. The 1976 Allison is a legendary hull, as almost any hull carrying the Allison nameplate is. Allison has attained so many accomplishments in boat design, race wins and records that it is too long to list. But, Allison's are about speed and in the 70s, the 15 Allison was responsible for the first single engine V-hull to break 100 MPH. That is an exceptional accomplishment considering the limitations on materials and engines back then.
What makes this build special though goes beyond the legendary hull. Mike Winstone grew up watching his father Doug be part of the performance boat scene and was hooked at an early age. Doug had many project boats including a 13' Critchfield raceboat, a fully restored J-Craft, and a Canadian built 18' Panther. Doug's brother still has an early 21 Challenger with a 1985 Evinrude V8, the first in Canada. So Mike comes by it honestly.
After Mike had mastered driving a little Hydrostream VooDoo, he bought his own 18' Talon with a 225 ProMax. That hull got Mike into the 100 MPH club after spending time getting it setup just right. After that, Mike turned his attention to the 15' Allison as a project boat. After locating the hull in Florida, Mike knew it was going to be an endeavor and went ahead with some guidance from his Dad. Mike did it right, he took it apart and redid everything better than new.
Mike redid the entire hull, including re-coring the hull.
The teardown reveals a great deal about how a boat was built and treated, when Mike took it apart, it was apparent everything was rotten and the hull had been given a cheap roller paint job in a less than ideal orange color. Then the fun began. Mike went with the tried and true Balsa core, marine grade Meranti wood in other areas, using 12oz. biaxial cloth for a light and strong layup.
To finish it off and have it looking like new, Mike painted the hull in Interlux VP performance two part epoxy. The top side was done in Endura two part epoxy, making a super durable finish that looks amazing. Mike can't even count the hours he put into the classic Allison and it truly is a labor of love. A few very cool touches are Mike had a custom fairing made from a STV that was modified to fit. And the ultimate touch is the engine. What do you power this vintage race hull with? How about a ported 2.5 block, back half, carb front half. A Mike Nass, HNR, lightweight race cowl with retro T3 graphics, and a Geiger Tec custom 12" bracket and 12" mid. Geiger Tec also made the wing plates for the engine, Mike guesses it was putting out about 250 HP.
Interlux VP performance covers the hull and Endura paint covers the top side. Endura is an industrial epoxy and polyurethane coating maker. Classic white with red accents.
With that beautifully built package, the Allison flies on it's pad; Mike had it up to 107 MPH and felt there was a little left. The center steer 15' Allison handled like it was on rails and was steady at all speeds. Make no mistake, getting any single engine V-hull over 100 MPH is incredible, one you built yourself with your Dad as part of the team is really special. I can't imagine the rush in that small hull. The Allison was designed right and Mike restored it right.
I know Mike and Doug will have more projects, they are true enthusiasts. You can find them boating around Ontario, Canada. Mike sold the boat a little while ago but not before enjoying the Suwanee river run with it. We really appreciate Mike sharing his Allison with us and look forward to hearing about his future projects.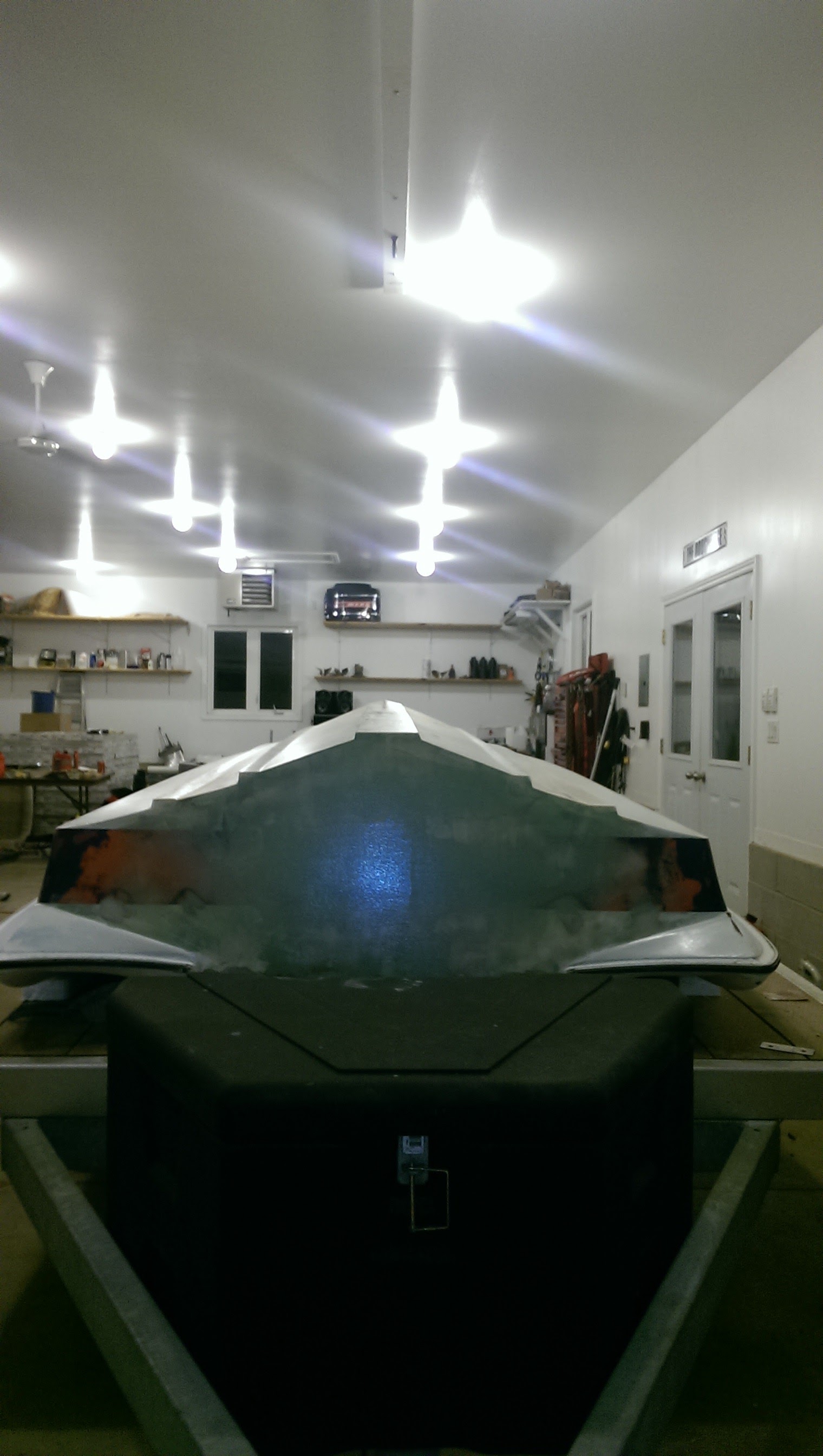 Mike refinished and made the Allison hull perfect. Good for 107 MPH. The steep narrow pad is the hallmark of Allison design.