Original Cigarette: An Iconic Boat is Saved
When it comes to performance boats there is one name that has stood out more than any other, Cigarette. The resonance of the name is partly because of the company's' early racing success, incredible designs that ushered in a new era of offshore boats and the famous brand was one of the quintessential Don Aronow companies that lived on thunderboat row, NE 188th st in Miami Florida. In 1969, Aronow raced a hull called "The Cigarette" named after a prohibition era smuggler. The name stuck and in the early 70s, Cigarette began producing more consumer boats, starting with a 28. But, to me, the most alluring early Cigarette is the 20 (originally known as the 19). Sleek and with a distinct Cigarette look, narrow and deep, it was an instant classic. Today, it is very difficult to get your hands on an original.
Ken Lyding is one of those fortunate individuals to not only own one, but to know the boat from when it was new, acquire it through an interesting set of circumstances and bring it back from almost being completely abandoned. Not only that, this is hull #1, the first one built. This black Cigarette was bought new from Don Aronow himself at the New York City boat show in 1971, when the boat made its debut, and has lived in NY its whole life. One of three made in 1972, the hull may have not been built to sell as it does not have a HIN, but a serial number from the engine was marked on the bill of sale. Technically, this is a 19 and every other one after is called a 20.
How did Ken acquire it? Well, to start he dated the daughter of the original owner while working at the local marina. He was lucky enough to use the boat quite a bit and worked on it first hand. Apparently the original owner did not take great care of it. If we fast forward 23 years, Ken was looking for a project and being his 40th birthday, he had something special in mind. After seeing the original boat stuffed in storage at the old marina he worked at, he spoke with the marina owner who said storage fees were overdue on the boat and that it was ready for the landfill. Ken contacted the original owner and in a savvy move, made a deal to pay the marina dues and take ownership. That's when the work began and it was a project. Believe it or not, it still ran but only because the marina would fire it up once a year to keep it going, everything else was shot.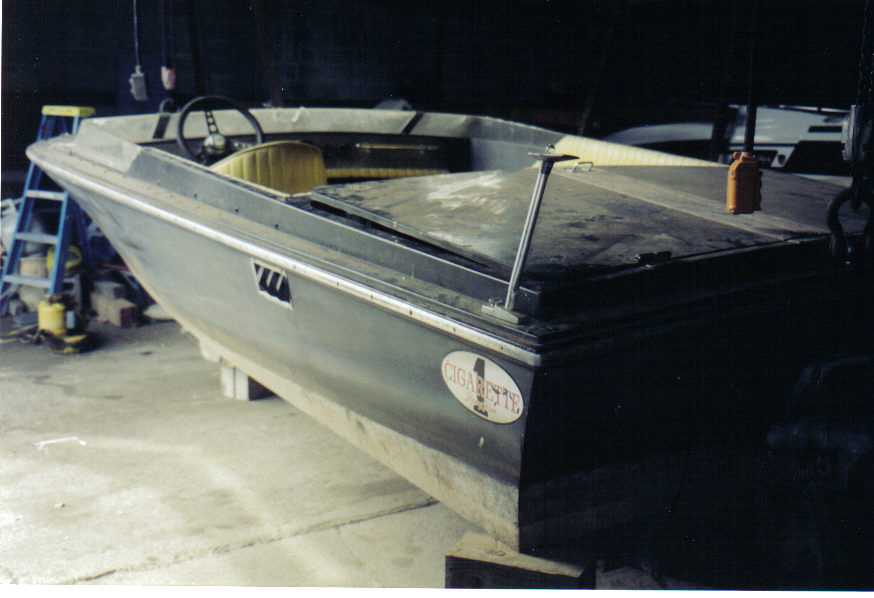 The Cigarette was left for dead in storage, a true barn find. It was neglected its whole life.
With a hull like this, you have to do it right and that's exactly what Ken did. A true restoration to original as possible, with a few tasteful updates. The engine is a 1971 GM LT-1, marinized with Chris Craft parts; good for 320 HP.
The boat was dismantled and the gelcoat was taken down, repaired and refinished. A painstaking process.
Ken stripped it right down, removing all hardware leaving the bare hull and deck. He contracted a boat restorer from Connecticut and the repair work began. The gel was taken down, repaired, sanded, refinished for an incredible amount of work. To finish it, the Cig was painted black using Awlcraft 2000, a super durable acrylic urethane marine paint. The yellow boot stripe is Awlcraft 2000 as well and the wood center line on the deck is done in mahogany, which provides a little more color than the original teak, yet looks period correct. The interior is all new in yellow upholstery and the result is stunning. Black and yellow with the freshly chromed hardware and mahogany accent are just perfect. Gauges and rigging are period correct with Stewart Warner gauges, redone shifter and the 3 piece glass custom reproduced from the original by a fabricator in Miami.
An original Volvo Penta 270, rebuilt and with custom 4 inch exhaust from Allen Brown "Brownie" at Stainless Marine, shaving about 180 lbs from the original cast iron ones. New wiring and ignition, all new rigging and a painted engine bay finish off this stunning Cigarette. How does it go? Low 60s, has a beautiful rumble and can crush waves as well as any new 20 foot hull.
You used to find Ken and the Cigarette around Greenwood Lake NY at classic boat events and poker runs. According to Ken, the boat received an incredible amount of attention and I don't' find that surprising at all. Ken mentioned many people helped with the restoration, including his good friend Matt Veth. The boat now belongs to Skip Braver's son, Skip is the owner of Cigarette Racing in Miami Florida. So it is in good hands.
There is something about bringing something back that was left for dead and this one feels extra special. You can't simply buy a boat like this, it has a history, countless stories and it takes someone with real passion to take the time to restore it. Thankfully Ken did. We can't thank him enough for sharing his story and his work of art.