Dashboard Bling: An Overview of Marine Gauges
Whether you are custom rigging a new boat, simply updating an older boat or finishing a restoration project, gauges are a great way to add style with functionality. Now, more than ever, consumers have an array of options. If you've been seeing what is happening for new boats, where everything is digital, you can opt out of traditional dials all together and go with a digital screen. But, if you're more traditional then you will probably look for dials or some combination of screen and dials. Here, I want to look at some of the options out there as well as look at how you can maybe save some money while upgrading your boat. The options are overwhelming, so let's see if we can break it down a bit.
First, let's assume two categories for this article: high end and mid level. There is a low end tier but let's focus on quality products and consider the pros and cons of some of the gauges on the market. What differentiates the categories? Materials, internals and customization mainly. Marine gauges differ from auto or off road instruments in a few ways. Marine casings and brackets are made of more resilient materials to combat water exposure, including saltwater. Lenses are capable of handling extreme humidity, heat, cold and moisture permeation. Dial faces have to resist UV exposure from the sun and be lit for night navigation. Marine gauges live in the toughest environment of all vehicles, which is why they are so expensive compared to non-marine gauges. Here is an overview of some of our favorite brands, in different price ranges, with great quality.
High End
There are a few brands that stick out in this category, Autometer, Livorsi, Gaffrig, and even VDO. At one time they were intertwined but are now separate. There used to be a brand partnership with Gaffrig and Livorsi (Livorsi by Gaffrig) and Autometer was a supplier of internals for Livorsi a long time ago. Now, Livorsi is independent after being purchased by CompX Marine in 2006 and Autometer and Gaffrig have nothing to with one another. VDO is actually a large supplier of gauges in automotive, and actually manufactures instruments for some of the brands mentioned above.
Pricing in this category is high. Count on a simple 4 or 5 gauge set with GPS speedo to be upwards of $1,000, more if you want to get fancy bezels, custom colors and add some other rigging pieces. For a more complex set, 7 gauges, custom colors etc. you can get to $2,000k pretty fast and twins with fancy indicators and accessories can get really pricey but generally if you're boat build is nice, then you want some really high quality hardware to compliment your boat. These are race spec instruments, so they can take a beating. With race helmets bouncing off them, drenched in saltwater and kids at boat shows punching them. Most of these companies offer other rigging hardware, steering wheels, switches, panels, mechanical indicators along with other accessories.
Livorsi Marine (website)
Livorsi leads the pack in customization, products and in general has great customer support. Many builders use Livorsi as OE, like Skater, Formula, Cigarette, Donzi and many other custom builders use them as well. With a plethora of options in even the standard colors, and designs, you can have a dash that really compliments your boat easily. If you want to get really specific, you can get custom colors on the dial, pointers, and private label logos added for a nice touch. Livorsi makes a full line of accessories and hardware as well. Mike Livorsi is the face of the company still and they are made in Grayslake, Illinois, USA.
One thing that Livorsi has done well, is early on they offered options for digital setups which are now common. Livorsi Marine offers a line called Vantage View, which has all modern Mercury SmartCraft, NMEA 2000, and other digital systems, making rigging a snap, as everything connects to the "master" tachometer that uses a digital display within the gauge. All Livorsi gauges can use a choice of rim design, plus custom bezels. Standard sizes, as well as "monster" oversize dials are available.
Livorsi offers custom gauge sets in any color and design. These Blue monster gauges, with SS rims and white bezels are sharp.
A staple of aftermarket gauges in the automotive world and marine for a long time. If you want classic, bulletproof gauges, it's hard to go wrong with Autometer. They have added more customization options over time, and you know you are getting a high quality product that will last as long as your boat. But, they are using mechanical instruments, and don't really have the digital capabilities of some other gauges for modern systems.
I love the simple layout, clean look and the touch of class they offer to any dash. Made in Sycamore, Illinois, USA.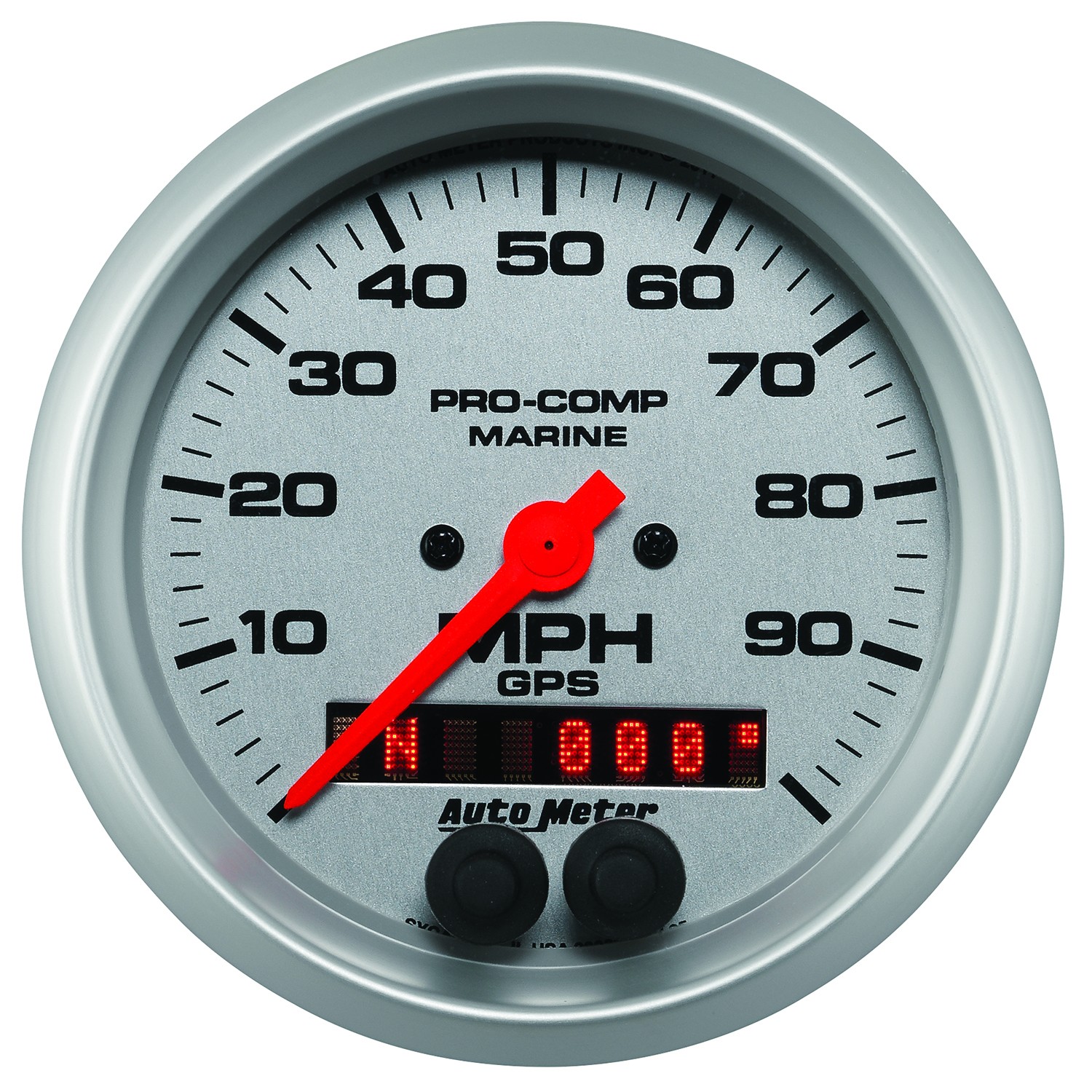 Simple layout, clear numbers and super durable have AutoMeter as a leading gauge brand for high performance boats. (Platinum Pro-Comp Marine shown)
Gaffrig Performance (website)
Offering great gauges, they seem a little harder to acquire retail wise and are among the pricier, depending where you are shopping. Their website looks like it was built in 1987 and is difficult to navigate but hopefully you can find a retailer to help you out. The dials are distinct with large numbers and sleek bezels. Plus, they have custom bezels as you would expect. And, you can get your boat brand logo on the face. For a while they offered a line called "Gaffrig 2" and they were aimed more at the mid market, were not easy to read and didn't go over to well in the long run. But the original Gaffrig dials are high quality gauges.
Again, for modern digital systems, you will be able to adapt them, but you will lose the level accuracy made possible by digital. These are for more traditional mechanical setups. Made in Huntley, Illinois, USA.
With an array of rim and bezel colors and design, a unique dash layout is easy.
Mid Level
Here is where things get interesting. This category is a great place to shop if you are on a budget, have an older boat that can't justify over $1,000 in dashboard bling but you want that modern custom look. Some of the differences in this category are the lens glass quality (scratch resistance, sealing, UV etc.), plastics, heat resistance and quality of the fittings. Quality is still great and for 90% of consumers, more than adequate. One trick to make "mid level" look "high end" is the bezel. You can color match your bezel and rim to the look you're going for and immediately make it look custom. Companies sell straight and angled bezels in different colors. You could also re-color your stock rim and bezel on your own to a custom color.
Original Equipment - Factory Engine Gauges
If you are re-powering, know that you will be able to negotiate rigging and factory gauges into the price of the engine, so in effect you can get the gauges installed for free potentially. The factory gauges from the big manufacturers are high quality, reliable instruments. If you're going for the latest technology, they have digital versions that compliment the screens and "smart" gauges that accompany the digital rigging new engines have. What do they lack? Most only come in standard sizes (Evinrude Icon 2 are available in oversize), they have no rim or bezel options and the face and dial are fairly basic. But, the internals are good and the brackets and hardware are high quality.
Websites: Mercury Marine - Yamaha - Evinrude
Aftermarket
What do aftermarket mid level gauges offer that OE does not? They have more options for colors, bezels, rims and faces. You can get different color bezels for some too so you can have that "custom" look without spending a bundle. Plus, if you're not re-powering with a new engine, then you have no real advantage to going OE, therefore you have more options for great gauges. For performance use, this category is fine but if you want a speedometer over 80 MPH or 100 MPH, then you're options are reduced a little as some lines only go to 80 MPH. Some styles do have a small digital readout at the bottom along with the mechanical dial, so you can get around the MPH limit on the dial. Here are a few brands that stand out.
Everyone knows this name because they have been around since 1920, and are the leader in automotive, commercial and marine instrument manufacturing. An OE supplier, as well as a private label manufacturer, VDO makes high quality gauges that can fit in the high end, and mid level category. For marine, many of your favorite brands are actually made by VDO, which is a good thing. You have probably seen VDO gauges in high end cars as well, custom Porsche builder Singer Vehicle Design uses VDO instruments in their cars, to give you an idea of what level they do.
Seen here in a Singer Porsche, the marine line is high quality, and offers a divers number of designs.
For marine, they offer about 10 different lines, all distinct so you can achieve a semi-custom look. Pricing is really competitive. If you are doing a vintage, or classic restoration, you may want to look at their Allentare series for period correct styling. With digital capabilities, as well as classic mechanical gauges in modern layouts, chances are they have what you are looking for. VDO is owned by German conglomerate Continental AG.
 
Hardin Marine (website)
A staple in the marine industry for over 30 years. Hardin gauges are great quality and offer the most custom looking in this category. Bezel options, including angled bezels and different colors provide a distinct look. If you have a unique boat and you want the custom look, these are a great option. I really love these gauges, they really suit hot rod type boats because of their classic look. Standard sizes only. Made in the USA too.
Faria Beede Instruments (website)
Faria is the leading supplier for OE marine manufacturers, Faria has made gauges for automotive, motorcycle, industrial and military purposes. The company was founded in 1956 and got involved in marine instruments in the 90s. You will find great quality and selection and if you're looking to replace the OE gauges in your boat, they probably made them. If you're a small builder they can custom design instruments just for you in a range of orders. Value, variety and quality set Faria apart.
Many styles, especially if you're looking for something classic or traditional.
Thoughts
If your budget is around $500 for a basic set (GPS speedo, tach, fuel, trim, volt, water pressure, temp) then I would look at Hardin, if you want to keep the budget real tight, Faria is a good option, or forgo the GPS speedo to save some money. If you have a really nice rig, or you're using your boat for serious offshore, then look to Livorsi for a super custom set, or AutoMeter for timeless design and dependable instruments. Gaffrig are a great option as well.
A few things to consider. Chrome or polished rims and bezels can be bad in the sun. Also, check how the gauges are lit and if you can dim them or not. Keep in mind that bright backlighting is bad for night vision, your eyes will not adjust to the dark if the gauges are lighting up the helm. Some new gauges have a white light ring inside the rim that won't look good with black dials or rims potentially.
Sizes are standard and you can get oversize in the higher end brands. Tachometers and speedometers come in 3-3/8 standard, oversize is 4-5/8. Accessories come in 2-1/16. If your dash is small standard is great, but if you have the room, oversize gauges really look more substantial and are easier to read.
Installation:
Autometer GPS
This article has been updated from a previous version.